The Problem
When the US switched from swipe credit cards to EMV "chip cards" POS terminals needed to be upgraded, but the twisted pair cable in the ground would not support Ethernet connectivity to those new terminals. Wiring upgrades at a gas station can be an expensive and disruptive construction project involving getting permits scheduling inspections and shutting down operation.
The Picture
Patton Ethernet Extenders allow Ethernet to be transmitted over a variety of wire types including legacy twised pair, non-twisted low-voltage cable or coax and a wide variety of wire gauges. Ethernet Extender rack acts like a multiplexer enabling multiple Ethernet network connections from the fuel dispenser to be connected back to the network closet.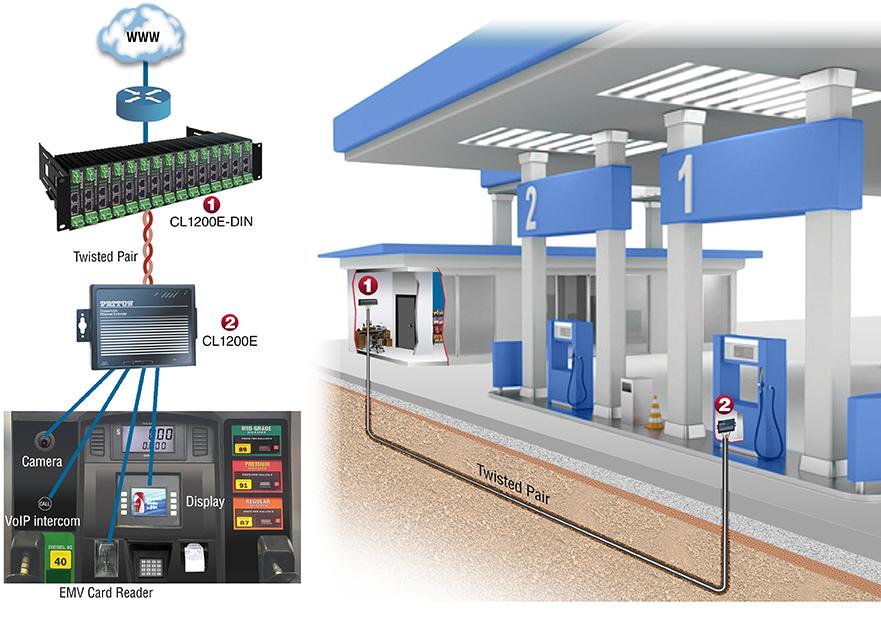 The Solution
Patton CopperLink Extenders allow Ethernet to be transmitted over a variety of wire types including legacy twisted pair, non-twisted low-voltage cable or coax and a wide variety of wire gauges.
Patton can support blazing fast Ethernet connectivity over existing copper twisted-pair cable. Up to 100 Mbps between station and dispenser.
The solutions can connects up to four Ethernet (IP) enabled devices at the pump (POS, VoIP intercom, printers, flow meters etc.)
Enables either the re-use of existing cable plant at the gas station or connectivity to uplinks further away from the forecourt. Over 30x the 328-foot reach of Ethernet.
Transparent such that there is no interference to VoIP codecs, video compression schemes, or industrial Ethernet protocols such as Modbus TCP/IP, PROFINET and EtherCAT.
Plug and play; easy installation and maintenance free.
Modular system reduces risk of single-point-of-failure.
Get The CopperLink EMV-Compliant Dispensers Solutions Guide

The Details
Gas station operators in the US have been adopting new point-of-sale (POS) terminals which accept EMV "chip cards" at the pump in the "forecourt". Newer terminals connect with Ethernet where older terminals used RS-485. Because of it, most sites previously installed standard twisted-pair connections to support Async, low bandwidth communications. The existing cable plant won't connect Ethernet to carry the secure EMV transactions. So just switching out the terminal is not a solution.

Fuel merchants will have to undertake effort and costs to upgrade the wiring to CAT5e/6 or fiber. In most sites, this is a considerable construction project that involves getting permits scheduling inspections etc.. The project can mean digging up concrete to lay conduits and/or cabling. This cost and downtime at the site can be significant. Downtime translates into lost revenue as customers change their habits on where they stop for fuel, candy, snacks and car washes.

There are two ways that retailers can enable broadband connectivity to their dispensers. For newer sites, where it is practical install new wires merchants can install CAT5e/6 or fiber cable. Cat5 needs to be run in a low voltage conduit separate from any power wiring and is not fully secure or "future proof". Therefore fiber is recommended and Patton FiberPlex products can provide the POS terminal interconnect to the newly installed fiber.

For older sites, Patton offers CopperLink Ethernet Extenders. These extenders enable high speed Ethernet connectivity over old two-wire infrastructure (already in the ground). The solution is easy and cost effective and can any existing wires. Patton Extenders, not only solves the wiring and EMV upgrade problem. The solution enables applications that can enhance customer-experience, value and improve profitability. VoIP (phone/intercom), IP video surveillance, streaming video, remote management and asset tracking through the cloud are all services supported by the solution.