The Problem
For SMEs using Windows and Microsoft products, 3CX installed on-premise is a logical value-based choice for replacing your old PBX and adopting UC features sets. Managing the transition of a PBX to 3CX, while also dealing with Trunking issues, can be daunting. And consideration must be given to the future changes in the access network.
The Picture
Patton devices can be automatically configured using Patton's Web Wizard or using 3CX pull down menus. The application below shows how the SmartNode can support first-line analog trunks, seamless migration path to SIP trunking or hosted telephony and hybrid telephony with a SIP trunk and FXO connection for local breakout and fallback.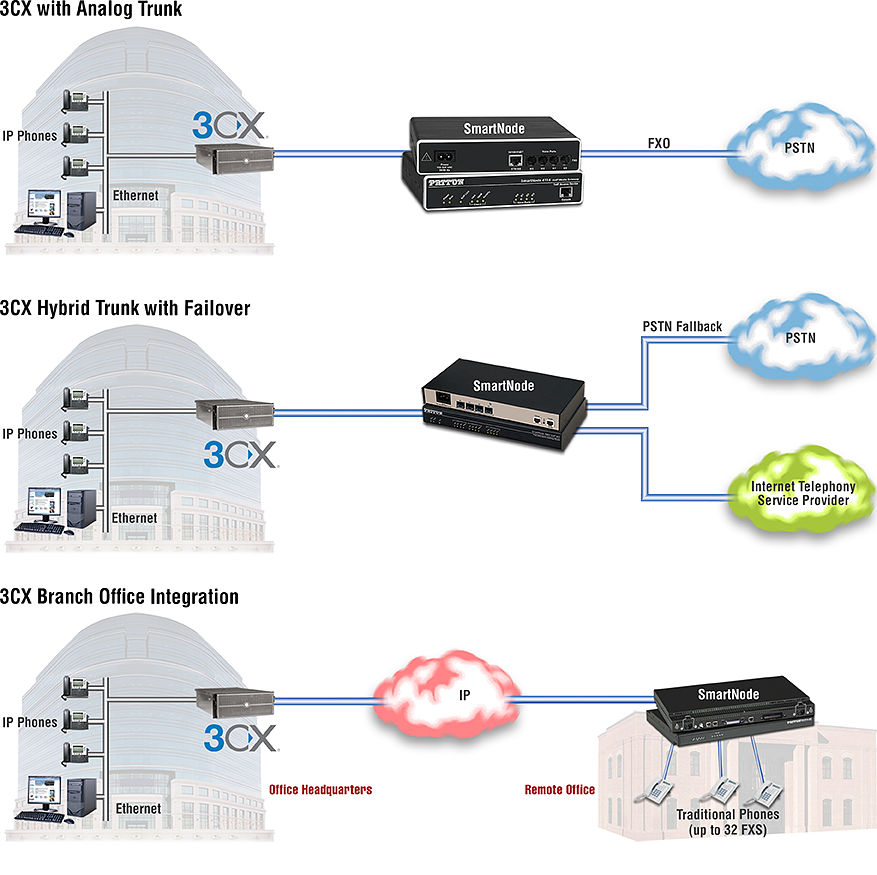 The Solution
Patton's SmartNode Gateways enable using existing Analog, T1 or ISDN/PRI trunks with the 3CX system.
Able to "morph" from being a TDM Trunking Gateway to a SIP Trunking Gateway, the SN's enable on-premise and access network transitions to be done in an orderly non-disruptive manner
Supporting dual TDM and SIP trunking, the SmartNode can be used to support hybrid trunking and/or TDM failover as the best-practice for assured services, including direct local E911 dialing.
Optional dual-WAN, including wireless broadband will enable ALL-IP survivability in the event that all TDM based services become unavailable.
With the optional availability of FXS ports, the same device can be used to connect existing FAX machines, intercoms, paging and other analog devices to the 3CX based PBX.
Being controlled and powered from the Patton Cloud, service providers can deliver remote SLA services around 3CX on premise deployments. Persistence quality monitoring, trouble shooting, software upgrades and dynamic license allocations are just a few of the services provided remotely and optionally via out-of-band network paths.
A variety of port densities, port variations and WAN connectivity options enables a single device to solve multiple connectivity issues on the customer premise.
Visit our 3CX Partner Page

The Details
SMBs are implementing the 3CX Phone System for Windows because it offers many benefits including robust UC feature sets, low cost, easy management, scalability and enhanced worker productivity. When deployed as an on-premise solution, SMEs can avoid the recurring costs associated with Cloud-Based services.

When planning for the transition, some SMEs realized they are locked into a service contract with their traditional provider of Analog, T1 or ISDN lines. The timing of the PBX replacement decision might be inconvenient and not aligned.

Many SME customers are still wary about going "All-IP" and switching to SIP Trunks, at least "right now". POTS lines work no-matter what, even when there is a power outage. An old fashioned analog phone connected to a POTS line will always work, no matter what. Besides, changing the PBX is a big task and bringing on a new unfamiliar VoIP trunking provider at the same time has risks and can complicate the migration.

SMBs often choose to make the transition in steps and sometimes they want to keep a few traditional trunks installed for survivability, in case their broadband to the internet fails.

For many businesses, it also may be advantageous to keep using legacy (analog or ISDN) end points (telephones, fax machines, overhead paging speakers etc.)

Patton's SmartNodes give SMBs and Corporate branches the ability to use existing traditional Analog, T1 and ISDN trunks with 3CX. The same devices can also terminate a SIP trunk, either at the time of transition or in a dual-trunking scenario, where the old trunk is used for failover survivability. Model as also available that allow both trunk and legacy device connectivity, so you can keep that FAX or Paging systems in place and working together with the 3CX system. And when you are ready to jump to the Cloud or integrate with Cloud based conferencing systems, SmartNodes supports that too.