Synopsis
A large rail infrastructure project in NYC required hybrid Analog and IP telephony to support end points located in elevators, at stations, along tracks and in maintenance areas. The New York Metropolitan Transit Authority selected Patton SmartNodes to convert analog to SIP/VoIP and transport the traffic over a dedicated Fiber Network and integrate with dialing plans of the Unify Openscape 4000 PBX.
The Picture
Hybrid Analog and SIP based Voice Communications System integration includes desktop SIP Consoles, "Blue Light Station" Tunnel Emergency Telephones (TETs), Passenger Emergency Telephones (PETs) Elevator Emergency Telephones, Administrative/Office Telephones and Work Area Telephones.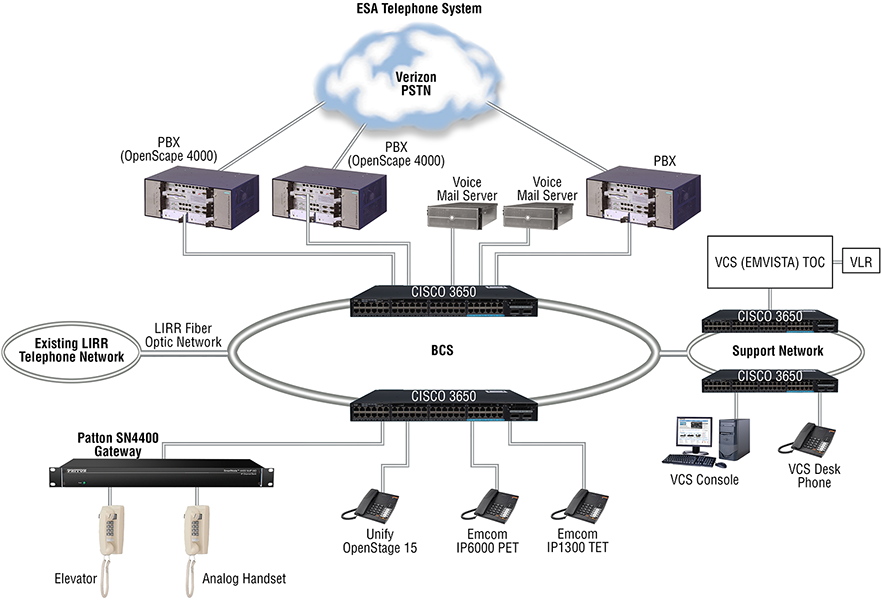 The Success
SmartNode connects Unify Hi-Path and OpenScape Business FXS end-point devices, integrating those devices into IP based (fiber) transport system.
As an Advanced Technology Partner of Unify Patton SmartNode are fully certified with the OpenScape Business and Hi-Path PBX platforms.
The MTA is connecting analog end points to their Voice Communication System in phases as construction continues.
SmartNodes enable the MTA maintain a full set of calling functionality in a hybrid system including analog connectivity to the fiber backbone carrying IP VoIP traffic.
The SmartNode provides high density analog connectivity supporting up to 32 POTS ports to enable the MTA to utilize the existing copper infrastructure and wiring closets to aggregate end-point connectivity onto the next generation IP network.
Patton supports the key contract obligation that the hardware solution be US Made and procured via a New York MTA approved Service Disabled Veteran Owned Small Business (SDVOSB) currently registered to support the CS179 Contract.
Check Out the Products Used for this Solution

The Story
East Side Access is one of the largest transportation infrastructure projects underway in the United States with a budget of over 10 billion dollars. The project encompasses work in Manhattan, Queens and the Bronx and includes new stations and more than 11 miles of tunneling. When completed, East Side Access will serve approximately 162,000 customers a day, providing a faster and easier commute from Long Island and Queens to the east side of Manhattan in a new 8-track terminal and concourse below Grand Central Terminal.

From a technology perspective the project includes the SCADA Systems, Traffic Management Systems, Video Surveillance, Access Control, Perimeter Detection, Rail Health Systems and a Voice Communication System (VCS). The VCS included hybrid voice incorporating analog and SIP over a fiber backbone. Kratos Public Safety & Security is a sub-contractor of John P. Picone, Inc. and 5 Star Electric who were awarded portions of the Metropolitan Transportation Authority's East Side Access project in these technology areas.

In order to provide connectivity to Elevator Phones and Service Phones located in stations, along tracks and in maintenance areas there was a need to connect analog end points to the Voice Communication Systems. Patton SmartNode is utilized to convert analog to SIP/VoIP and transport the traffic over a dedicated Fiber Network and integrate with dialing plans of the Unify Openscape 4000 PBX.

The combination of the Unify Communications Platform (PBXs) and the SmartNode IP Channel Banks address the project requirement to support legacy analog interfaces and the conversion to SIP for transport over the dedicated fiber network.

The Kratos PSS Team selected Patton because the SmartNode satisfied Hybrid VoIP Telephony requirements and enabled direct fiber connectivity to the fiber backbone via Cisco Switches. The fact that the SmartNode is made in American, became a point of pride for the New York Metropolitan Transit Authority.