Synopsis
Vodafone New Zealand has thousands of customers on ISDN technology for voice communication which are either direct connections to Vodafone network or leased through other providers. In order to consolidate and modernize their network, VNGS needed to design solution that help tackle migration complexities such as disruptive transition, abrupt change in user experience, interoperability issues, incorrect SIP trunk provisioning and number porting delays.
The Picture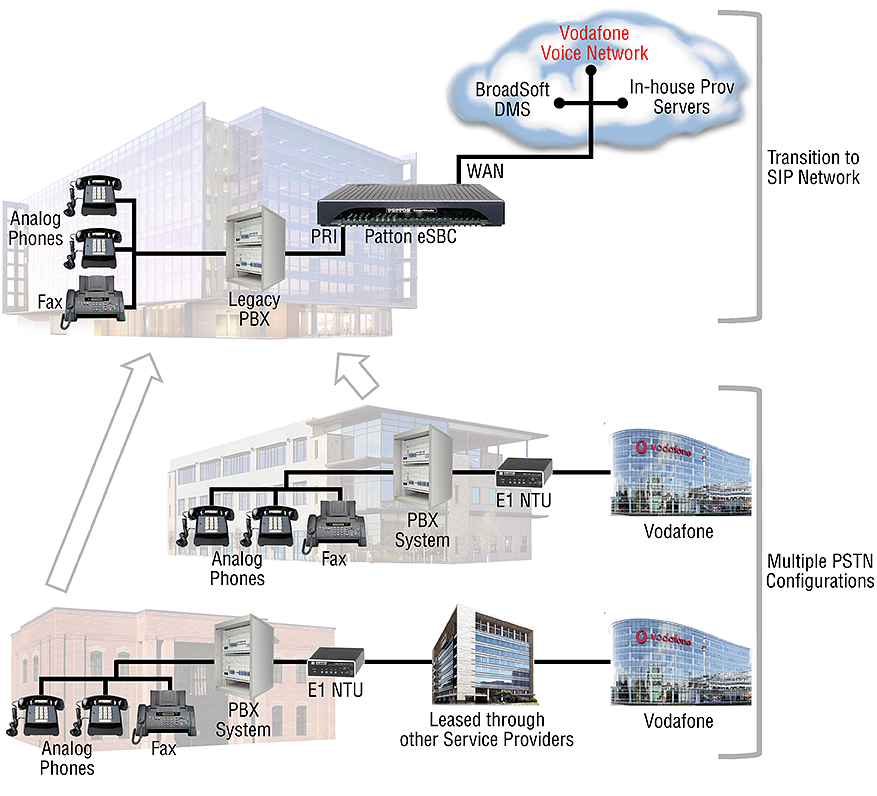 The Success
SmartNode SBC enabled interconnection of legacy ISDN circuits and co-existence with IP networks with seamless call routing without change in user experience as customer transition to next-generation network.
Patton SmartNode SBC allowed flexible call routing and dialed-number manipulation provides numbering-plan continuity and eases integration.
Patton SmartNode SBC provided standard features such as REST API, Zero-Touch Provisioning, ISDN relays and Call Detail Records. Further, Vodafone specific customizations such as security certificates, factory configurations, wizards and specific redirection locations helped VNGS to formulate the transition strategy.
SmartNode SBC empowered Vodafone to switch, control, manage and troubleshoot services all the way to the customer premise from their NOC.
These strategies eliminated site visits, reduced interop time, improved customer satisfaction, reduced churns and accelerated adoption of VoIP.
Moreover, the customers were able to retain the legacy hardware in the premise with an outside IP network till the premise edge with much less cost. They can upgrade their infrastructure to UC/UCaaS at a later stage without fear of disposing of working hardware.
Vodafone gained a competitive edge and is able to focus on service delivery while Patton devices facilitate smooth transition between varied legacy network, legacy hardware and future technologies.

The Story
Vodafone New Zealand is the largest mobile service provider and the second largest ISP in New Zealand. Vodafone offers both mobile and fixed line services to business subscribers. The enterprise voice network based on ISDN delivering either a direct connection on the Vodafone network or purchased and resold (leased wholesale) from other service providers.

Vodafone recognized that the ending of ISDN services offered an opportunity to capture off-network, leased wholesale subscribers and directly capture the telephony traffic onto their own network. They also had a vision for offering value added UC services to all their clients.

The problem is that these leased ISDN circuits had varied configurations which added complexities to any consolidation or migration of services to an All-IP network. The challenge was to keep costs under control, giving the subscriber choice and control in the transition to VoIP services. Customers needed the ability to switch over and adopt new services at their own pace. Retaining existing customer equipment was an essential criterion. Moreover, enterprise customers were wary about transition to unfamiliar technology and their confidence during transition would be of utmost important to avoid any potential churns.

Vodafone choose to transition the services in controlled manner to demonstrate ISDN and IP network interoperability and co-existence to customer with minimal disruption of services. Each phase of this controlled transition would help gain customer confidence about the stability, usability and user experience of the transition. For Vodafone, the transitioning solution should also interoperate with BroadSoft ecosystem and able to leverage Broadsoft DMS as well as in-house provisioning system.

Such a transition would require multiple intermediary steps. Varied ISDN configurations present in old network necessitated multiple configuration profiles. Limited visibility of old network provisioning also required intelligent and automatic detection of number ranges, DID format and provisioned services. This would allow Vodafone support engineers to configure the SIP trunks in-line with existing configuration.

Patton's SmartNode Session Border Controllers (SBC) with ISDN interfaces provided an easy answer. The SBC was able to automatically provision from Broadsoft DMS as well as integrate with in-house provisioning system. Even a layman can connect physical cables and power-on the SBC at their premise. A local wizard would then allow secure latching on to Vodafone network followed by auto provision from the network in steps (end user paced) to phase out the ISDN completely. During these phases, the SBC detect the call scenarios assisting provisioning engineers to provision user account accordingly. The entire process does not require site-visits to troubleshoot or update configuration as the SBC can be fully controlled and provisioned at any time from Network Operation Centre.