Introducing SmartNode™ 2290 Series Leased Line over IP Extenders
by Pranav Desai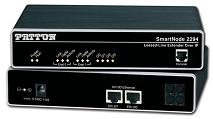 SmartNode 2290
Have you found a replacement for your leased line yet? With Europe and soon Rest of the world phasing out their Always ON analog leased lines, will you be ready in time? Responding to burgeoning customer demand in this domain, Patton introduces its newest addition to the SmartNode Family The 2290 Series Leased Line Extenders (see press release here)

Here are some of the major advantages of using the SmartNode 2290 series:
Enjoy the same benefits of using analog leased line based connections but at significantly lower costs typically associated with packet based networks.

Transport Audio information on up to four lines using only one extender on each side

Leverage your VoIP offerings using the familiar, easy to use and standard CLI structure of SmartWare

Be well prepared for migration away from the Analog leased lines when yours is canceled
The SmartNode 2292 and 2294 Series Leased-Line Extenders allows you to save big on leased line costs. Using only one extender on each side, audio information on up to four leased-lines can be transported over a packet-based network. This essentially ensures that with just Internet access at two locations, four leased lines between these two locations can be established.
The best part about using the 2290 series is the ease of configuration for any network deployment scenario that it offers. As it is based on SmartWare, configuration is very intuitive and uses the familiar Industry standard CLI interface. This CLI interface is highly extendible and grants the user complete control over how they want their SmartNode to perform.
Combine this with additional features like IP routing, VPN/Security, and Quality of Service for up to 4 transparent voice channels and FAX calls over any IP or PSTN network, the 2290 series leverages low-cost IP services with packet-voice for complete branch office voice and data connectivity.
Applications at a Glance:

The SN 2290 series are very easy to deploy using the familiar and intuitive SmartWare CLI. Once deployed the connection between the two establishes immediately. This is an always ON connection and thus by following a few simple commands you can easily extend your existing leased line connection over IP.
The connection also re-establishes after any kind of network disruption. In addition, the connection can be secured using hardware-accelerated 3DES or AES encryption end to end between the extenders, preventing wiretapping and making the 2290 series an ideal choice for security conscious enterprises.

Application for the Service Provider:
Major Service providers in Europe are planning to move away from Analog Leased lines.

As they make this migration, the existing customers still expect the same SLA's they are used to.

The 2290 series allows the Service Provider to provide the same level of service as the customer is used to with the leased lines.

Patton's Downstream QoS allows the Service Provider to provide just the same.

Patton's SmartNodes have been deployed worldwide providing top of the line VoIP services.
Applications for the Enterprise Customer:
Patton's 2292/ 2294 allows enterprises to use a normal Internet connection to extend their Always "ON" connection to provide significant savings in the Operational Expenses.

In addition, Patton's 2290 series with its SmartWare based Industry Standard CLI and advanced provisioning and management features allows customers to leverage the product line further to reduce their Operational expenses

For advanced users, the SN 2292/ 2294 can be bought separately and multiple extenders can be arranged in a multi-location formation. This allows e.g. direct intercom between different locations or posts.

The integrated SIP Voice-over-IP (VoIP) protocols enables any VoIP phone system to talk to the SN 2290 series - finally offering real audio interfaces. An intelligent agent inside the Patton 2292/ 2294 ensures the VoIP calls are always up
Key Features Highlights:
To find out more get the datasheet

[return to newsletter]