A channel bank converts a group of FXS or FXO interfaces to higher speed interfaces. When you need to connect multiple analog/ legacy devices like phones and faxes like those found in a MTU/MDU (Multi Tenant Unit/ Multi Dwelling Unit) facility, to a VoIP network, a generic Multiport FXS/FXO gateway is just not good enough. You need a high port density channel bank solution which not only aggregates your legacy analog lines but also allows you configurable IP Routing and Quality of Service based on your specific requirements.
Here are some of the major advantages of using a SN4400 IPChannel bank
| | |
| --- | --- |
| - | Enjoy the benefits of using a full fledged IPChannel Bank solution at the costs associated with that of a CPE type device. |
| - | Migrate your existing legacy infrastructure to VoIP based network thus enjoying higher return on your investment |
| - | Offers port densities in granular steps of 12, 16, 24 and 32 thus providing you with the solution that best fits your requirement and thus providing the best value in accordance with your deployment requirements. |
| - | Leverage your VoIP offerings with value added services using the configurable IP Routing and Quality of Service functions built in |
| - | The SmartNode 4400 IP Channel bank is your one stop solution for both Carriers and Enterprises who are looking to deploy a cost effective IPChannel Bank based solution. |
For Service Providers:
SN4400 can be used to connect/ migrate legacy MTU/ MDU installation to high value and feature rich VoIP based netw
For Enterprises:
FXS channel banks for Hotels, call-centers or multi-line Fax gateway for office buildings.
The best part about using the SN4400 series is the ease of configuration for any network deployment scenario that it offers. As it is based on SmartWare, configuration is very intuitive and uses the familiar Industry standard CLI interface. This CLI interface is highly extendible and grants the user complete control over how they want their SmartNode to perform.
Combine this with additional features like IP routing, VPN/Security, and Quality of Service features built in, the SN4400 series leverages low-cost IP services with packet-voice for complete branch office voice and data connectivity.
Applications at a Glance:
Service Provider – Migrating/Connecting legacy MTU/MDU installation to VoIP based Networks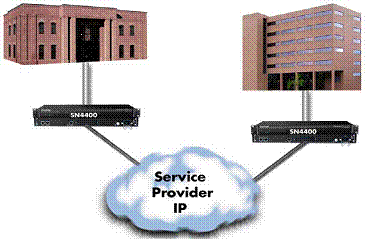 | | |
| --- | --- |
| - | SN4400 IPChannel Bank offers an ideal way for Service Providers (SP) to migrate their existing networks to standards based VoIP networks |
| - | By using the Telco Connector port, the existing closet wiring in the MTU/MDU can be utilized and the customer's analog devices can now be connected to feature rich VOIP based networks |
| - | It protects the investments that have been made in Analog equipment and wiring by various MTU/MDU facilities and leverages it further by connecting these facilities to the Service Provider's VoIP based networks. |
| - | Above all, it allows simple and transparent migration process for enterprise and residential customers in the MTU/MDU facilities. |
Enterprise FXS concentration and extension over IP and T1/E1:

| | |
| --- | --- |
| - | The SN4400 Series IpChannel Bank can be used with a T1/E1 gateway to extend a T1 or E1 line over IP and split it into FXS ports |
| - | This provides operators and enterprise network administrators with a simple and cost effective option to provide a large number of FXS ports in a remote location |
| - | The granularity of port selection brings the best return on investment based upon the deployment requirements |
- Bulk Analog line extensions:

| | |
| --- | --- |
| - | The SN4400 FXS models used in combination enable enterprises to extend up to 32 analog phone lines over any IP link |
| - | This could be the public Internet, a leased line or a WiMax/4G link. |
| - | Advanced Quality of Service (QoS) features ensure optimal bandwidth usage and voice quality, even on small bandwidth links and with simultaneous transport of data or VPN traffic between the SmartNodes |
Key Features Highlight:
To find out more get the datasheet

[return to newsletter]