Patton's SmartNode 4520 Series Integrates Branch-Office Phones, Faxes & Computers with Your Central-Site Voice & Data Services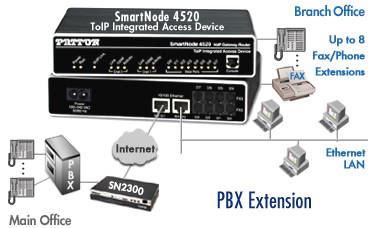 Convergence. Now you can seamlessly integrate all your remote-office communications—voice, fax, & data. Patton's new SmartNode 4520 series cost-effectively streamlines branch-to-headquarters communications, while providing remote workers with transparent access to all your PBX calling features and centralized data network services.

Be there now. Leveraging tried-and-true IP technology and equipped with multiple security features, the SmartNode 4520 safely sends packet-powered voice over the Internet, extending your PBX out to remote sites. Now your branch-office staff can dial co-workers, make conference calls, access voice-mail, even use overhead paging, from their remote extensions—as if they were sitting in the office next door.

Local Access. When you connect your SmartNodes' FXO* ports to the regional Telco, both remote and central-site staff can make local calls to suppliers and customers in each others' respective local area—eliminating long-distance charges. more product info...


SmartNode 4520 Key Features & Benefits
•
Up to 8 FXS Ports Connect to Standard Phone/FAX or PBX
•
2 or 4 FXO* Ports Connect to Telco for Local/Fallback Calling
•
QoS Ensures Clear Voice Simultaneous with Data Traffic
•
Security Features like Firewall, IPSEC, Encryption, many more
•
H.323v4 & SIP Signaling, Toll-quality CODECs, T.38 FAX
•
Contact Sales


*
Estimated availability for FXO is 2004.

Selected Best-Selling Patton Access & Connectivity Solutions Released This Year. . .



| | |
| --- | --- |
| Patton's G.SHDSL IAD offers simultaneous Ethernet and serial access over symmetric DSL at rates up to 4.6 Mbps on a single twisted pair! more... | |
| | |
| --- | --- |
| Patton's SmartNode series of packet-telephony gateways can route voice, fax, and data over any IP network, with solutions ranging from 2 up to 120 calls. more... | |
Fire-Free ISPs
ISP owners don't have time to put out fires. They demand a fully-reliable RAS. Find out why AdaNet's owner-operator "wouldn't use anything else."

Million-Dollar Modems Patton's Ethernet extension solution saved $1 million for Exelon Nuclear's Jeff Dean at his atomic power generation station. Full Story (PDF)...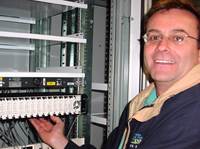 Jeff Dean with his Patton Rack


VoIP for Mid-East Royalty
At his new country residence, Patton provides packet-powered telephony for the Crown Prince of Abu Dhabi. Full Story (PDF)...


New Network Solutions from Patton. . .


NEW High-Density RAS
Model 3120 supports up to 120 simultaneous calls with redundant field-replaceable power supplies and more...

Universal Mounting Panel
converts your cool collection of Patton Micro-Paks into a convenient, cost-effective, rack-mount solution.

NEW Ethernet Extenders
Models 2156 & 2157 reach up to 9.4 Kilometers & up to 4.6 Mbps on a Single Twisted Pair!

OpticLink™Converters
Model 2300 series convert and extend 10/100BaseTX networks over single or multimode Fiber.

FibreLink™ Extenders
Model 1170 series cost-effectively extends your Ethernet segments over single or multimode fiber.