SmartNode™ Model 4830 Multiport Analog VoIP IAD delivers revenue-generating converged-IP services to RoBo & SME subscribers—over synch-serial lines.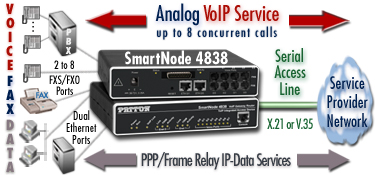 SN4830 Press Release...
SN4830 Web Page...
Create fresh streams of multi-service revenues with your existing leased-line infrastructure. Now service providers can offer bundled VoIP & data services over Frame Relay & PPP connections to small-to-mid-sized organizations using serial network-access lines.

Deploy a SmartNode™ Model 4830 Series Multiport VoIP Integrated Access Device (IAD) at each customer premise, and you can offer converged voice/fax & data services—bundled with Internet access—to Remote-office/Branch-office (RoBo) & Small-to-Medium Enterprise (SME) subscribers that use standard analog phone equipment... over existing X.21 or V.35 lines.

Right Sized. Wherever serial lines are present, the SmartNode™ 4830 is the ideal CPE solution for organizations that need 2 to 8 simultaneous VoIP calls (up to 50 user-seats). Combinations of 2 to 8 FXS/FXO ports easily connect to any standard-analog phone, fax, PBX, or key-system.

Max Profits. The SmartNode™ 4830 series combines a multi-port analog VoIP gateway, a feature-rich QoS IP-router, and an integrated V.35 or X.21 serial-access port in a single CPE. The unique combination of capabilities allows providers to maximize ROI, avoiding the expense of multiple CPE devices while generating multi-service revenues with a single VoIP IAD.

Plays well with others. Like all the members of the SmartNode™ family, the SN4830 supports SIP and H.323 signaling for seamless interoperation with all the leading soft-switches and VoIP networks.

More than just talk. In addition to synch-serial access, SmartNode™ offers VoIP solutions with T1/E1, PRI/BRI and Ethernet interfaces to fit your network. SmartNode™ is "more than just talk." That's why world-class service providers like iNode, Green, and Avantel Mexico are selecting SmartNode™.

Learn more about delivering converged services to your subscribers with SmartNode™. Order your free Patton VoIP Products Guide, visit patton.com/voip, email sales@patton.com, or call us at +1 301 975 1000.
Check it out. The popular Patton User Group (PUG) is enhanced and expanded.


Enhanced. The reincarnated PUG now features an easy-to-use web-browser interface with a searchable archives of all user postings. Expanded. The updated PUG format provides four different forums based on Patton product categories. You can choose to participate in the forums that interest you.

Flexible. Customize your user profile for your preferences. Now you can manage the volume and nature of email you receive from the PUG. Read the full press release...

Sign up for the new PUG at www.patton.com/support/pug.

Meet Patton people, see the hot new SmartNode™ VoIP IADs, and win a free SmartNode... more than just talk" tee-shirt. Come to booth 13049 at SUPERCOMM during 7-9 June 2005 in Chicago. details...

Since 1999 Patton's Ethernet Extenders have continuously achieved longer distances at increasingly faster rates.

Today Patton's fiber and copper Ethernet Extenders are "going the distance" in local and wide-area networks around the world. Whether you're extending Ethernet within your building, across the street, or over your campus, you can count on Patton's proven Ethernet extension solutions.