Middle East Oil and Gas Ministry Rolls Out New VoIP Communications

4.26.2019

SmartNode™ VoIP… More than Just Talk!

GAITHERSBURG, MARYLAND: Patton Electronics—US manufacturer of SmartNode VoIP CPE products— has contributed to the rebuilding effort in the Middle East by delivering a secure IP-telephony communications solution for a national oil and gas ministry.

In the wake of wartime destruction, a certain national oil and gas ministry needed to interconnect four remote sites with the main headquarters.

The project came with some interesting characteristics and requirements: 
Mobility — Two mobile sites are located aboard seagoing ships.
Connectivity — All sites interconnect over satellite links and the public Internet.
Security — Voice traffic must be secured against interception and snooping. However the new system must integrate with the existing software IP PBX, which does not support TLS encryption.
Redundancy — The ministry required redundant connections to two IP-PBXs for failover service.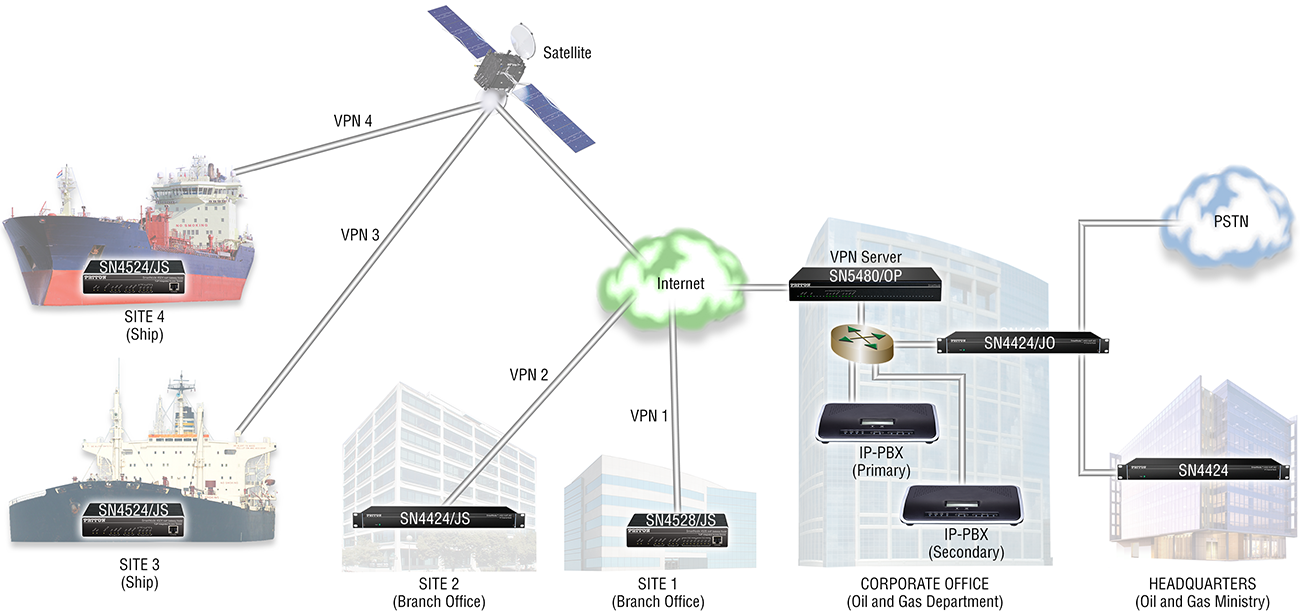 Oil & Gas Ministry Communications Network


The local system integrator chose Patton as the supplier for VoIP customer premise equipment (CPE) because of several unique capabilities offered by the SmartNode VoIP product line, including:

    >>Integrated POTS interfaces: FXS for handsets, and FXO for PBX connections

    >>VPN server functionality, a native SmartNode option

    >>VoIP-over-VPN technology, delivering secure, encrypted voice, using IPsec 
        strong encryption, AES and 3DES keying, and Internet Key Exchange (IKE)

    >>CODECs: comprehensive selection

    >>Advanced Call Routing with powerful, flexible, configurable algorithms

Products Deployed

The SmartNode 5480 enterprise session border controller (eSBC) and router was configured to function as a VPN server. Positioned at edge of the LAN the SN5480 interconnects remote sites and headquarters using secure VPN tunnels running through the public Internet while routing local traffic to the dual-redundant IP PBX.

The SmartNode 4424 IpChannelBank is installed at two remote sites. With satellite connections involved, low-bandwidth CODECs were configured to optimize available bandwidth. Called numbers are screened so local traffic is routed the within the ship.

The SmartNode 4520 analog VoIP gateway-router, installed at two remote sites supports up to 8 FXS or FXO telephone connections. It combines voice-over-IP (VoIP) with advanced Quality of Service (QoS).

Earlier this week Patton added new OA&M messaging delivered to mobile teams to Patton Cloud edge-orchestration service. By replacing costly NMS and EMS with a virtualized solution, Patton Cloud reduces network complexity, CapEx and OpEx for All-IP service providers and enterprises.
###

Media Contact: Glendon Flowers | +1 301 975 1000 | press@patton.com


About Patton

Patton is all about connections. In today's fast-moving All-IP market, Patton has been diligently innovating, leading the future of communication. It is our joy to connect with our customers and business partners in this mission of network transformation, building on more than four decades of technology expertise in Unified Communications, Network Access, and Network Connectivity. Incorporated 1984, Patton designs and manufactures high-quality, right-priced products and services that connect you to the cloud and the Internet of Things, leveraging virtualization, SDN, NFV, and SD-WAN. Patton is uniquely qualified to help connect carrier, enterprise and industrial networks to these advanced new-generation technologies, while preserving investments in legacy TDM and serial communications equipment. Patton's world-class customer and technical support is eager and able to help you get your solution connected and running smoothly. Headquartered in Gaithersburg, MD, USA, Patton is connected with an ever-growing network of technology, business, and sales-channel partners. To connect with local-market requirements, Patton operates training and support centers in locations spanning the globe.

Patton… Let's Connect!

###

Media Contact: Glendon Flowers | +1 301 975 1000 | press@patton.com