Patton SFP Data Diode Delivers a New Class of Cybersecurity

4.12.2022

Now shipping, the FiberPlex™ SFX Series of SFP Data Diodes is made in the USA to provide a reliable and rugged, cybersecurity solution based on single-path, physical-layer technology



"We're bringing out a very simple, yet extremely effective network-protection strategy. The unidirectional data flow principle works very well for securing a sensitive data repository."



Johnnie Grant III
Product Manager
Patton Electronics
FiberPlex™ … Secure Digital Communications

GAITHERSBURG, MARYLAND: Patton—US-manufacturer of world-class copper and fiber-based network equipment since 1984—is now shipping the new US-manufactured FiberPlex SFX series of small form-factor pluggable (SFP) data diode modules that provide physical-layer cybersecurity.

Simple yet Effective
"We're bringing out a very simple, yet extremely effective network-protection strategy," said Johnnie Grant III, Product Manager at Patton. "The unidirectional data flow principle works very well for securing a sensitive data repository."

Modern Vulnerabilities
Hackers use powerful botnets, cloud computing, and artificial intelligence (AI) to discover new vulnerabilities which allow them to break through firewalls and other traditional cyber defenses. This challenging cybersecurity situation demands never-ending upgrades, patches, and software updates.

No Access
The data diode is a hardware interface that prevents all external access to a high-security network. The unit secures the system by providing a one-way, simplex data transfer—with no return path for system ingress.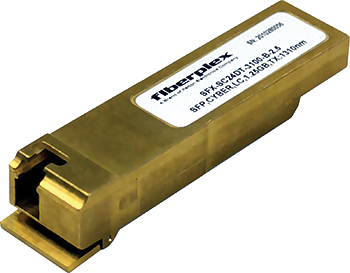 Fiberplex SFX-1DD 1-Gigabit Data Diode Module for Cybersecurity
Air Gap
"The SFP data diode creates an 'air gap' in the network that allows the right people to see the information they need, while keeping the wrong people out: intruders, hackers, malicious netbots, and so forth," Mr. Grant said.

Legitimate Use. No Compromise
Meanwhile the data required for remote monitoring, backup, or analysis is sent over the transmit path to another network. End users and applications can access the delivered information as needed—without compromising access to the data network that receives the information.

Made in the USA 
Patton's SFX series is the only one designed and manufactured entirely in the USA. 

Rugged
Housed in a milled brass enclosure, these SFPs are tough. The rugged enclosure also provides maximum electro-magnetic and radio-frequency (EMI/RFI) containment.

Two Versions
Patton's data diode comes in two versions:

• 1-Gigabit SFX-1DD SFP Data Diode

• 10-Gigabit SFX-10DD SFP Data Diode

Related News
Patton recently announced its SmartNode™ e SBCs and virtual CPE products are now certified for use with SIP trunk services offered by Orange Business Services.


About Patton
Patton designs and manufactures high-quality communications equipment including networking, telecom, ProAV, and IoT products—all made in the USA. Incorporated in 1984 and headquartered in Gaithersburg, MD, Patton provides right-priced products and services for carrier, enterprise, government, and industrial markets.

Patton's advanced technologies help organizations preserve investments in legacy systems while facilitating the transition to ALL-IP—and the convergence of all communication modalities.

Leveraging virtualization, SDN, SD-WAN, and NFV, Patton cloud provides touchless provisioning and edge-orchestration services. With decades of technology expertise in unified communications, network access & connectivity, industrial networking, and software & cloud, Patton's world-class support team stands ready to help get you connected and running for years to come. Patton is here for you today.

Let's Connect! 


Contact: Glendon Flowers | +1 301 975 1000 | press@patton.com 


###