Features

nx64 Rates to 4.6 Mbps—With multiple full-duplex symmetric rates available, users select the bandwidth option they need.
Remote Management: HTTP/SNMP—Use the embedded HTTP/SNMP agent to manage the unit from anywhere in the world.
Plug and Play—Just plug them in and the link comes up in seconds. Set the unit to use line probe and the selection of optimal link speeds can also be done.
PPP and ATM—Versatile interface options enable simple deployment into any network.
Local and Remote Loopbacks—Loopbacks add a powerful troubleshooting tool for determining line quality.
Software Upgradeable—Software upgrades make it easy to keep the 3231 in service for years.
Local Management: Console/FlexKey Touch Pad—Built-in VT-100 console port and touch panel with LCD makes local configuration and monitoring a snap.
Overview
Combining standards-based ITU/ETSI G.SHDSL transmission with high speed Ethernet bridging, the Patton Model 3231 managed NTUs are perfect for bandwidth intensive applications such as LAN-to-LAN extension, multimedia services, and connectivity for remote network enabled devices.
Based on the International Telecommunications Union (ITU) and European Telecommunications Standardization Institute (ETSI) G.SHDSL G.991.2 standard, the Patton 3231 G.SHDSL NTU enables providers to extend their reach-and-range by delivering rate-adaptive nx64 symmetrical speeds from 192 kbps to 4.6 Mbps over a single existing telephone grade twisted pair.
The Model 3231 offers on the fly installation and turn-up. With support for auto-line configuration, PPP or ATM, the Model 3231 offers simple interfacing to any network.
Management and monitoring has never been so simple. The Patton Model 3231 gives remote point-and-click control with the built in HTTP/SNMP management interface. A convenient touch pad front panel with a backlit LCD screen and console port can be used for the local management.
The Model 3231 is compatible with Patton's full line of G.SHDSL products, including the Model 3224 24-port G.SHSDL IP DSLAM and Patton's ForeFront models.
Flexible Management Features
Management, control and monitoring is made easy with the Patton Model 3231. Get instant remote point-and-click control with the built in HTTP/SNMP management interface. For local management, a console port is provided for TELNET/CLI access. Also included is Patton's FlexKey--an integrated LCD and touch panel offering on the fly access to various line rate, IP, and security features and offers constant view of the Model 3231's line rate.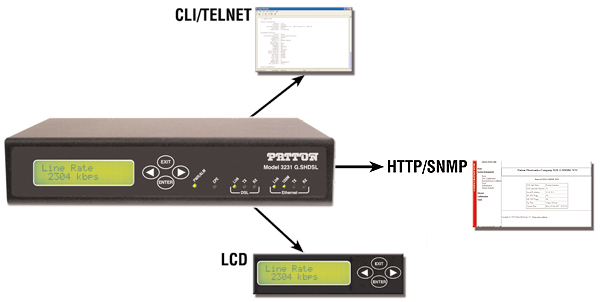 Model 3231 Extension Distances
Line
Rate

No Noise

26g (0.4 mm)

22g (0.6 mm)

20g (0.8 mm)

19g (0.9 mm)

kbps

miles

km

miles

km

miles

km

miles

km

200

4.4

7.0

8.0

13.1

10.3

16.8

12.1

19.7

392

4.0

6.6

7.5

12.3

9.7

15.8

10.8

17.5

520

3.8

6.2

7.1

11.6

9.2

14.9

9.7

15.8

776

3.5

5.6

6.0

9.8

7.8

12.7

8.8

14.3

1160

3.0

4.9

5.2

8.4

6.7

11.0

7.5

12.3

1544

2.8

4.6

4.9

7.9

6.4

10.3

6.7

11.0

2056

2.5

4.0

4.2

6.9

5.6

9.0

5.9

9.6

2312

2.3

3.8

4.0

6.6

5.3

8.6

5.6

9.1

2696

2.3

3.7

4.0

6.4

5.2

8.4

5.5

8.9

3080

2.2

3.6

3.9

6.3

5.0

8.2

5.4

8.7

3464

2.1

3.4

3.6

5.8

4.7

7.6

4.9

8.0

3848

1.9

3.1

3.3

5.3

4.3

7.0

4.5

7.4

4232

1.7

2.8

2.9

4.8

3.9

6.3

4.1

6.6

4616

1.5

2.5

2.6

4.2

3.4

5.5

3.6

5.9
Applications

Ordering
#
Model #
Description
Availability
1
3231/I/E
Managed SHDSL Modem, 10/100 Ethernet, LCD Management; 192kbps-4.6Mbps; No Power Supply
End of Life-Notice
2
3231/I/EUI
Managed SHDSL Modem, 10/100 Ethernet, LCD Management; 192kbps-4.6Mbps; Universal Power Supply
End of Life-Notice

Accessories