Synopsis
To avoid having to re-locate broadcast and video production operations for every sporting event, Hillsdale College needed to deploy broadcasting capabilities at venues across a sprawling campus. The solution seemed to be an expensive infrastructure project to install new fiber plant. This solution was expensive and would cause major disruptions during the trenching and construction project.
The Picture
By piggy-backing Broadcast bandwidth over existing optical runs in use by the IT Department Hillsdale was able to realize substantial savings. The existing fiber strands were used as backbone, carrying both IT data and steaming live video from campus sports venues to a Broadcast Studio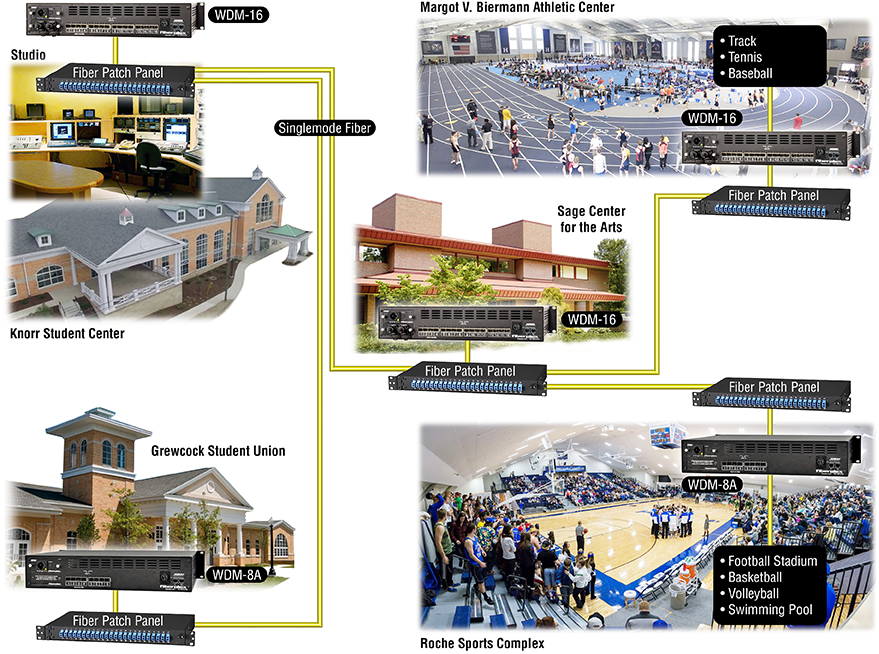 The Success
The FiberPlex WDM16 allowed Hillsdale College to dramatically expand their existing fiber infrastructure without putting a single shovel in the ground
Hillsdale saved over $300K by avoiding trenching and running new fiber optic cables.
High Bandwidth transport capability was added utilizing previously installed and under-utilized fiber.
Ease of setup for production and broadcast events all around campus.
Open ports on all WDMs provide for future expandability.
With this solution, the Media Team shows up to the venue with HD Video Cameras, plug them in to the local WDM, and they are ready.
Read About Patton's Optical Add Drop Multiplexers

The Story
For Hillsdale College, the process for capturing, recording, editing, and broadcasting a sporting event, meant taking entire studio and production process mobile. They had to load up vehicles with cameras, mixing, switching and preview-display equipment; travel to the on-campus venue; set it up, perform the live recording, then breaking it all down and reverse the process. This was a costly and expensive hassle.

The decided they need to build infrastructure to solve this problem, including running new fiber optic cable, for Broadcast use only, back to a control room from several remote locations that are commonly used for events. It was going to cost $500K.

Then they asked for help. We discovered the IT Department already operated a fiber network on campus, which was dedicated for IT use, mostly providing internet access.

A system design was presented where those existing fiber strands would be used with FiberPlex WDM multiplexers. The IT services would continue to operate as normal, having their own wavelength and there would be no compromise of performance for the IT department. Meanwhile, new spectrum would be opened up for the Broadcast and Production connectivity. The FiberPlex WDM effectively converted 8 pair (16 strands) of single-mode fiber, into 128 pair (256 strands) of single-mode fibers.

Eight WDM units were deployed in eight remote locations allowing for bidirectional transport of 16 (WDM16) or 8 (WDM8a) data/media systems (audio, video, control), up to 48GB bandwidth per system (equivalent to 16 uncompressed 1080P video feeds), over individual pairs (2 strands) of single mode fiber that were already in place from each remote location to the control room. In the control room 8 companion WDM units receive the single pair of single-mode fiber, and separate the 16 or 8 data/media systems back out to electrical signals for control, capture, and playback locally in the control room.

Now Hillsdale can stream the college's live volleyball, football and baseball games across a quarter-mile distance from its athletic fields to the control studio.