VoIP IAD | SmartNode 4650 Digital G.SHDSL BRI VoIP IAD
The SmartNode 4650 VoIP IAD with G.SHDSL.bis WAN router & up to 5 BRI ports for 8 simultaneous voice channels connects your ISDN network to the world of voice over IP for converged voice and data services that exceed ISDN standards.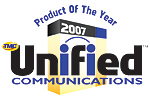 The SmartNode 4650 series is the CPE of choice for business broadband access providers that want to generate new revenue and acquire new customers through voice-over-IP. Part of the proven market-leading SmartNode VoIP product family, the SmartNode 4650 Series features a 3 or 5 BRI/So port configuration to fit the requirements of small and medium enterprises.
In one single box, it combines broadband access and voice-over-IP functionality--also video delivery. The integrated G.SHDSL modem with Annex F & G support delivers throughput up to 11.4 Mbps over 4 wires or up to 5.7 Mbps over 2 wires. Boasting interoperability that covers all major G.SHDSL COs, this is triple-play at your fingertips!
The extra BRI port solves many VoIP network integration problems encountered in real-world installations. The port can synchronize the gateway, and it can be used as a local PSTN breakout port for survivability. It can also be used to shorten the time of number portability—accepting incoming calls through the breakout port while making outgoing calls on the cost-saving VoIP network. With the life-line relay, the port even enables integration of an ISDN emergency terminal powered from the public ISDN.
Like every SmartNode, the 4650 Series models are state-of-the-art VoIP gateways with outstanding interoperability for fax (T.38 and G.711 fallback) and voice. SmartNode products provide seamless network integration, continuous trouble-free operation and cost effective deployment to protect your investments for the future.
Applications
Network Integration