Overview
The SmartNode Branch eXchange (SNBX) IP-PBX Appliance is a plug-and-play VoIP PBX appliance pre-loaded with
Business Phone System (
n award-winning software-based IP PBX for Microsoft Windows)
and
Microsoft Windows 7. Supporting up to 64 calls, the SNBX IP-PBX VoIP appliance can support any 3CX edition for 4, 8, 16, 32 and 64 simultaneous calls with RTP Relay and Transcoding. (The SNBX comes with 3CX Version 14 Free Edition supporting limited features and 2 simultaneous. More calls and features can be unlocked with 3CX license keys that must be purchased separately).
In addition to running 3CX Phone System, the SNBX web GUI provides device monitoring and application management; plus, is open to 3rd party applications.
The SNBX IP-PBX appliance is a
VoIP PBX
that fits your network by supporting most IP phones and softphones. You can keep your trusted PSTN lines or analog/ISDN phone equipment by simply adding Patton's SmartNode Gateways. Or you can provide secure, prioritized VoIP by using a SmartNode VoIP Router to connect to your SIP trunks. Setup is quick and easy as the SNBX IP-PBX VoIP PBX appliance provides a built-in SmartNode configuration tool.
3CX Phone System
Break free from expensive proprietary phone systems and move up to an open standard IP-PBX appliance that increases employee productivity and costs much less.
Evolve your communications by enabling employee mobility. Calls can be made and answered seamlessly from outside the office, and voice-mail and faxes received via email.
Globalize your business by connecting branch offices and re-directing local customer service numbers via the internet to your phone system at negligible cost.
3CX Phone System is made to scale with your business and save you money on consultants' fees. Supported plug-and-play IP phones are simple to add with the administrator interface, and supported Patton hardware has configuration templates built right in. Overcome the limitations of hardware-based PBX systems, reduce costs significantly and add advanced communication features that will make your company more efficient and competitive!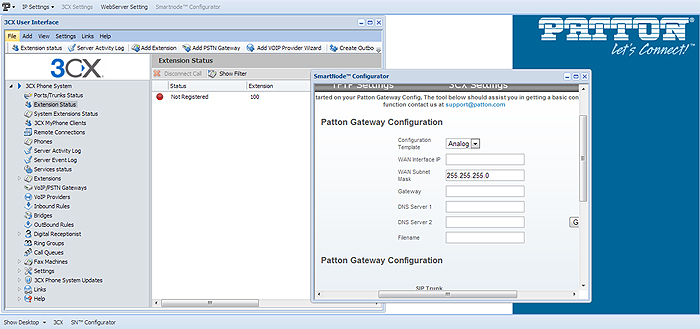 Applications