Microsoft Teams Certified Devices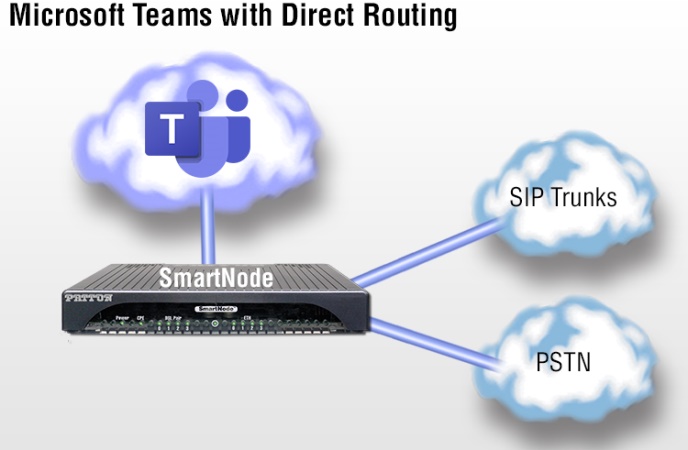 Patton's SmartNode products have been certified for interoperability with Microsoft voice-over-Internet Protocol (VoIP) and Unified Communications (UC) products and solutions since 2011.
>> Visit Our Microsoft Partner Certification Page
Microsoft Teams Certified Devices: Microsoft Teams Session Border Controller
Based on that long pedigree, Patton has the depth of knowledge, and is well-qualified to provide a comprehensive array of robust complimentary Microsoft Teams devices: hardware, software and cloud products for Microsoft Teams.
Microsoft-certified virtual customer premise equipment (vCPE) and appliance-based Microsoft Teams Session Border Controller (SBC) solutions from Patton offer many valuable benefits when integrated with analog, digital, and Microsoft Teams VoIP and voice systems:
Microsoft Teams Devices
Faster, easier setup and deployment
Greater flexibility in service provider selection
Efficient integration and migration for SIP, POTS, and ISDN voice trunks
Better voice quality
Enhanced user experience
Regardless of the readiness, state, and pace-of-migration of your voice applications and infrastructure, Patton is ready to assist. Delivering seamless connectivity, Patton offers decades of experience assisting service providers and enterprises with network transformation, system migration, and interoperability between SIP and TDM technologies.
Suitable for all UC architectures, Patton's solutions deliver efficient adoption, management and control for on-premises, Cloud and hybrid calling scenarios. Patton's virtual SBC for Microsoft Teams, Microsoft Gateway, and other related options help to make Microsoft telephony integrations easier and less costly to implement, monitor, manage and support.
Benefits

Quickly and Easily Migrate and Transform

Multi Device, Network and User Integration & interoperability

Cost Effective Integrated Service Management from the Cloud

Assured QoS, Quality Monitoring and Network Management

Migrate and integrate legacy platforms to Microsoft

Design your Microsoft Teams network with the future in mind

Maintain existing PSTN/SIP trunking providers with Direct Routing SBCs

Advanced routing, add-on software and solutions including call forking
Solutions
Patton offers direct SIP and TDM connectivity between Micosoft UC platforms and existing voice infrastructure, including PSTN and SIP networks. Patton SmartNode enables customers to connect legacy telephony equipment, PSTN lines, and non-compatible SIP endpoints to Microsoft Teams, Office 365 and Skype for Business.
•
Secure SIP Trunking
•
Virtualized Secure SIP Trunks
•
Secure SIP Trunk Aggregation & Federation
•
PSTN Trunk Migration, Hybrid Trunking & Survivability
•
PBX Integration
•
Pro-AV Networked Audio Meeting Room Integration
•
Legacy Telephone & Fax Integration
•
Paging & Security System Integration
•
Virtual CPE Access, VPN & Network Gateway
Success Stories
•
SmartNode eSBCs seamlessly integrate Microsoft Teams with Voice Trunks and STARFACE PBX Telephony Services
•
Integrating Analog and Non-Certified IP Paging Systems to Microsoft Skype for Business and Teams
Microsoft Specific Features
•
Direct Routing and Other Interoperability Features
•
Media Bypass and Other Teams Performance Enhancing Features