Visit Our Microsoft Solutions Microsite



Patton is certified for Skype for Business
Implementing Microsoft Skype for Business into small and medium businesses' (SMBs) existing networks can be challenging, especially when essential network elements or sub-systems are not compatible or certified with Skype for Business. Such equipment, software and services may include:

Non­-Compliant SIP Phones
Non­-Compliant IP PBX
PSTN Lines
Analog Phones
ISDN Phones
Fax
PBX
Many SMBs want to install Skype for Business but cannot afford the costs of replacing their existing non­-compliant equipment with new Skype for Business certified equipment. Meanwhile, some organizations are just not ready to leave their trusted PSTN lines behind.
Patton offers a "gateway to Microsoft Skype for Business" for companies facing such challenges. Patton's SmartNode VoIP Gateway and SBCs are Microsoft Skype for Business Certified. That gives any enterprise the ability to connect otherwise non­compatible SIP endpoints, PSTN lines and legacy telephony to the Skype for Business unified communications environment.
For more information about Microsoft's Certification Program check out Microsoft's Skype for Business and Teams certification program Overview. All of Patton's eSBC and gateway products—including the Virtual SmartNode—are validated by the Microsoft-defined categories of SBC and Enhanced Gateway. Patton's Gateways and SBCs have been verified by Tekvizion which is a Microsoft Certified Lab and are forward compatible with Microsoft Teams.
Application
Patton, in combination with Skype for Business, offer a unified communication solution that simplifies and accelerates All-IP environment for SMEs. Providing a solution that is based on the lowest OPEX in the market with its Virtual SBC centrally orchestrated and managed through a single portal: The Patton Cloud.
Covering every need of SME customers from Mobile applications, Skype for Business Online and on-premise (hybrid), legacy equipment integration and failover and survivability.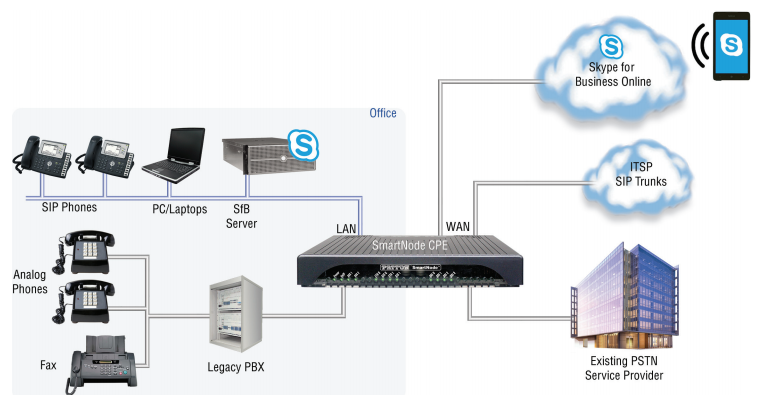 Certificate of Validation
Configuration Guides
Solution Overviews
Supported Gateway Products: using our newest software Trinity version 3.x
Supported eSBC Products: using our newest software Trinity version 3.x
Previous Certifications:
Configuration Guides
Solution Overviews

Copyright © 2001–2020 Patton Electronics Co., All Rights Reserved.
| | | | |