News, information, special offers, product
announcements, and more from...

Web Version
New Year! New Format!
Based on your feedback, Patton NetworkNEWS has become Patton...
CONNECT telecom news u can use
.
Tell us what u think! Send feedback...
telecom news u can use | from Patton Electronics
•
How to do SIP trunking? - Patton VoIP White Paper
•
Extending Ethernet - Video Tutorial
•
ITExpo! See Patton's SIP Trunking Gateway
•
Free PoE Ethernet Boosters
•
NEW! Session Border Controller from SmartNode™ VoIP

•
The Pattons - The Family Behind the Company

•
What You Missed...

•
Manage your email

Subscribe | Unsubscribe | Patton VoIP News | Patton eNEWS Archive | Patton Products |
Send feedback


Dear Patton eNews Subscriber,

Happy New Year! Here is

your January 2010 edition of Patton CONNECT with news u can use for the telecom and networking technology markets. In this issue u can learn about extending Ethernet over twisted-pair, SIP trunking, and VoIP session border control—plus Patton's free PoE Ethernet Booster offer. So keep reading...
Video Tutorial - Breaking Boundaries with Ethernet Extenders
Get the full story on Ethernet extension in less than 15 minutes. Learn how to extend Ethernet connections from A to B using standard two-wire copper cabling. Reach up to 5.7 miles (9 kilometers). Achieve rates up to 50 Mbps.



SIP-powered VoIP is paving the way to Unified Communications. But which approach is better for read more...

White Paper: SIP Trunking - VoIP Telephony for the Enterprise
Keep your traditional PBX system. Or transition to state-of-the-art all-IP telephony. Either way SIP trunking connects today's enterprises to the cost-savings, streamlined operations and rich-featured communication that voice-over-IP offers.

>>Get this whitepaper to learn...
• What benefits does SIP trunking offer businesses and carriers?
• What difficulties are involved during implementation?
• Which solution is best suited for your company?




CopperLink™ Model 2110
PoE Ethernet Booster

Get a free PoE Ethernet Booster for Each One you Buy!
Extend powered Ethernet connections to IP cameras, IP phones, or any LAN device—up to five times the standard reach!. Now through 31 March 2010, you can get a free CopperLink™ 2110 PoE Ethernet Booster for each one you buy! >>Get the details on Patton's buy-1 get-1-free Ethernet Booster offer...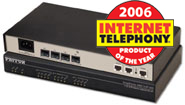 SmartNode™ 4960 PRI Gateway

See Patton's Award-winning SIP-trunking Gateway at ITEXPO!
SmartNode™ VoIP... more than just talk!

Patton and ABP are storming the VoIP market in the Americas with special 2-for-1 pricing on VoIP IADs. Patton and ABP will showcase the award-winning SIP trunking solution—the SmartNode™ 4960 PRI VoIP IAD—at ITExpo 2010 in Miami during 20-22 January. Meet Patton in booth 112.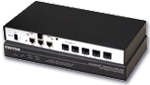 SmartNode™ 5400 ESBR

NEW VoIP Solution: SmartNode™ Session Border Controller
Finally, your private SIP network can talk to any SIP service and softswitch! Patton's SmartNode™ 5400 Enterprise Session Border Router (ESBR) translates between differing SIP implementations and all the voice CODECs—with powerful security features. Now any enterprise VoIP network can connect to any ITSP—without interoperability issues and without compromising security. Manufactured in the USA.

The Pattons - Washingtonian Magazine Covers the Family Behind the Company In 1984, Bob Patton helped three of his sons start a family business: Patton Electronics Company. A few of his grandchildren now work there. At age 82, Bob still goes into the office every day. Bob and his wife, Barbara, have 10 children. With 52 grandchildren (and counting) , they can name every one. "Andrew, Lauren, Thomas, Anna, Mary, Hope, Silas, Joshua, Ruby," says Barbara, counting off their son Burt's children. The extended family is so large—81 people including spouses and great-grandchildren—that they've stopped... >>Read the article: "One Big Happy Family" at Washingtonian.com