News, information, special offers, product announcements, and more from...

Web Version
telecom news u can use | from Patton Electronics
•
White Paper: The Future of Legacy in Industrial Networks
•
Webinar March 3: Setting up iPBX solutions with SmartNode
•
Transition RS-232 Device Networks to Ethernet/IP
•
Broadband Ethernet Reaches Beyond Technical Limits
•
SIP Trunking Promises Lower-cost Enterprise Telephony
•
What You Missed...

Share with a friend | Subscribe | Unsubscribe | Patton VoIP News | Patton eNEWS Archive | VoIP Products



Dear Patton eNews Subscriber,

Here is your March 2010 edition of Patton CONNECT with news u can use for the telecom and networking technology markets. In this issue... sign up for our technical webinar about iPBX setup with SmartNode gateways, learn about the future of legacy technologies in next-generation industrial netwoks, boundary-breaking Ethernet extension technology—plus Patton's new Session Border Controller for secure, cost-saving enterprise VoIP. So by all means please read on. . .


Tech Webinar - Configuring SmartNode with 3CX and Tribox iPBXs
Join us Wed 3 Mar 2010 at 2:00 PM EST for a technical training Webinar. Patton and VoipStore will present an in-depth look at SmartNode™ analog and digital VoIP gateways. Sign up! Learn how to configure Patton's analog and digital gateways with such popular iPBX platforms as 3CX and Tribox. more info... The webinar will also take you through common troubleshooting tasks. Register!



As industrial networks transition to converged-IP communications, there is much residual value in read more...

White Paper: The Future of Legacy in Next-Generation Industrial Networks
What does the convergence of voice and data communications mean for the future of industrial automation networks? Will IP technology render legacy technologies useless? What is the cost—in terms of new hardware, disrupted operations, and downtime—of IP-enabled alternatives to async devices?

>> Get this whitepaper to learn...
• What (if any) legacy infrastructures can/should be preserved in NGNs?
• What are the shortcomings of Ethernet in industrial networking?
• How can asynchronous devices be enabled for Ethernet/IP?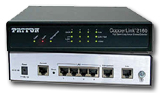 CopperLink™ Model 2160
Ethernet Extender

Broadband Ethernet Reaches Beyond Technical Limits
Now anyone with access to copper wire can deliver broadband Ethernet that defies traditional distance limitations. Patton's CopperLink™ 2160 takes Ethernet farther and faster—with greater reliability—than previously considered achievable. The new CopperLink extends Ethernet up to 5.2 miles (8.3 kilometers) and achieves rates up to 45 Mbps. >>Learn more...



Build Tomorrow's IP-Centric Device Networks Today!
Ready? Set. CONVERGE! Transparently multiplex up to 8 asynchronous device outputs over a sync-serial or Ethernet/IP composite link. For RS-232/V.24 device networks, the IpStatMux™ Model 3038 offers a smooth transition to all-IP networking. Manufactured at Patton's USA headquarters and priced at half the cost of traditional multiplexers, the IpStatMux enables immediate or future migration to next-generation device networking. >>more information...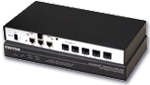 SmartNode™ 5200 ESBR
More than just talk

Cut Telephony Costs with Secure, Fully-Interoperable SIP trunking
Now any SIP-based IP-PBX phone system can connect to any ITSP—without interoperability issues and without compromising security. The SmartNode™ 5200 Enterprise Session Border Router (ESBR) lowers SIP-trunking equipment costs by including an advanced IP router, QoS, VoIP-VPN security, least-cost call routing and IP-link redundancy in a single device—with no added licensing or support fees. Manufactured in the USA. >>more information...