News, information, special offers, product announcements, and more from...

Web Version

telecom news u can use | from Patton Electronics

• Tutorial - SS7 Signaling Protocol
• Patton Serves Witness as Obama Signs ExIm Bank Bill
• ON DEMAND! New Patton Webinars
• RealityCheck - Time-Lapsed IP Photography in Far North
• VoIP for the Long Run - SmartNode™ 10k Series
• Extend Ethernet 3.4 miles (5.4 km). Achieve 5.7 Mbps
• Patton and Techlan Transport Norbert Dentressangle to All-IP
• Let's Connect at Upcoming Local Events...
• What You Missed...

Make sure future PATTON eNews updates reach your inbox. Please take a moment right now to add netnews@patton.com to your email address book and approved sender list.




Subscribe | Unsubscribe | Patton eNEWS Archive | Patton Products | Search patton.com



Hello Reader,

Here is your July 2012 edition of Patton CONNECT with news u can use for the telecom and network-technology markets. DId you know Bobby Patton witnessed Obama signing the EXIM bank bill? View ON-DEMAND webinars, get the new SS7 tutorial, read new case studies on VoIP and IP-photography projects in Italy and Canada. Learn about the new SmartNode 10k and CopperLink 1314. Connect with Patton at upcoming local events. Plus, catch up on the latest Patton news headlines and feel free to like, tweet, or comment. Thanks for reading, and let's connect!

New Patton Webinars ON DEMAND!





Alessio Miranda, TECHLAN Reti
We decided on Patton from the very beginning because we already knew that SmartNode is VoIP that works."

*Reti is the Italian word for "networks"

RealityCheck™ - Patton, Techlan Transport ND Logistics to All-IP
Routing internal calls through Telecom Italia was tallying up excessive monthly PSTN charges for the supply-chain management firm, Norbert Dentressangle. The logistics provider was eager to leverage the productivity-boosting power of IP communications, not available from the PSTN. >>full story



Leveraging the private MPLS/IP network already in place, interoffice voice traffic could bypass the PSTN—and eliminate tolls. The integrator, Techlan Reti,* already knew which VoIP gateway manufacturer could provide the necessary level of reliability and stability? >>read more


Beyond call control SS7 does number translation, billing, number portability, SMS and more...

Introduction to SS7 Signaling - New Patton Tutorial
Are you new to old-fashioned POTS telephony? Most of the world's legacy PSTN phone networks depend on the SS7 signaling protocol to manage call setup and teardown. Come up to speed on this important legacy technology with Patton's latest tutorial: Introduction to SS7 Signaling. >>Dive in to this 10-page tutorial...


Extend Ethernet 3.4 miles (5.4 km). Achieve 5.7 Mbps
Need to connect a remote office or private-network backbone to a corporate LAN? Or interconnect PCs, digital sensors, IP cameras or other Ethernet-enabled devices? The four-port CopperLink™ 1314 exploits existing twisted-pair wiring to extend Ethernet segments up to 3.4 miles apart. Achieve rates up to 5.7 Mbps over shorter distances.

Coming soon. . . Watch for upcoming release announcements on the CL1314R IP40* Ruggedized -40° to 85°C Ethernet Extender and the CL1314MDE IP40* Multi-Drop -40° to 85°C Ethernet Extender.

Did you know? Patton's CopperLink™ 2174 won the 2011 Product of the Year award from the Cable Spotlight web magazine!





"With Patton's rugged power-over-Ethernet extender, we provide year-round, time-lapsed photography in any weather."
RealityCheck™ - Time-Lapsed IP Photography in Far North


The harsh climate and geographical location of these construction projects made environmental conditions a critical concern for reliable operation of network equipment. >>full story



Patton created a customized product: the EHA2173/R/UI combines Patton's NEMA4-compliant EnviroNET™ rugged-industrial enclosure with... >> read more


It's no sprint transitioning telecom infrastructure to converged IP. . . it's a
long run

VoIP for the Long Run - SmartNode™ 10K Series
With a generation of investment in the race, carriers, call centers and large enterprises must leverage legacy elements to deliver classic universal and NGN services simultaneously. The SmartNode 10K series facilitates long-term migration, providing 16 to 64 T1/E1s, 1 to 3 DS3s, or an OC3/STM-1 trunk—while supporting 2048 concurrent VoIP or Fax-over-IP calls. >>product details...

FREE onsite engineering from Patton Technical Services. Order ten or more SmartNode™ 10200 systems before 30 September 2012 and receive one full day of free onsite engineering services (or choose a $5,000 credit toward your SN10200 order). >>promotion details...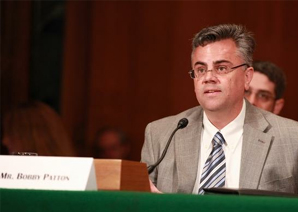 Robert R. Patton, CEO
Congressional Testimony
"this legislation shows our government can actually work together—at least on some subjects."

Patton Serves Witness as Obama Signs ExIm Bank Bill
When President Obama signed the ExIm Bank reauthorization bill, Robert R. Patton (Bobby), CEO of Patton Electronics Co. was there to offer a small-business-owner perspective. >>read more...

Bobby helped move the legislation forward during prior weeks by addressing the ExIm conference and testifying before congress.

Want more background? Read Bobby's interview with Doug Barry of the International Trade Administration: >>Micro-Multinational Patton Helps Connect the World

Let's Connect at Upcoming Local Events
What?
When?
Where?
SmartNode VoIP Training
6-8 August
Johannesburg, South Africa (English)
SmartNode VoIP Training
22-24 August
Gaithersburg, Maryland, USA
SmartNode VoIP Training
5-7 September
Beirut, Lebanon (English)
SmartNode VoIP Training
19-21 September
Zagreb, Croatia (English)
SmartNode VoIP Training
25-27 September
Niederwangen, Switzerland (German)
ITEXPO West
2-5 October
Austin, Texas, USA
SmartNode VoIP Training
9-11 October
Frankfurt, Germany (German)
New Hungary Partners Briefing
details coming soon...
15 October
Budapest, Hungary
CEE Channel Summit
details coming soon...
16 October
Budapest, Hungary
BroadSoft Connections
21-24 October
Scottsdale, Arizona, USA (English)
MORE upcoming events
November - December
Budapest, Milano, Paris, more...
What You Missed in Recent Patton News Headlines... like, tweet, or comment
•
CyberData Partners with Patton, Makers of Microsoft Lync-Certified SmartNode
MONTEREY : New partnership means Lync users can now do overhead paging, two-way communication, and access control using CyberData's SIP-enabled VoIP products.>>full story
•
Drishti and Patton team up for innovation
GURGAON, INDIA : Drishti-Soft in strategic alliance with Patton ready to hit the market, deploying SmartNode ™ VoIP Gateway Technology >>read more...
•
Última tecnología y ahorro de la mano en el Extensor Ethernet Copperlink 2174 de Patton
MADRID : Disponible en el mercado español desde principios de este mismo año, el Extensor Ethernet CopperLink 2174 de Patton tiene unas características récord tanto en velocidad de transmisión (hasta 168 Mbps) como en extensión de la Ethernet (hasta 3 kilómetros) >>full story
•
Patton Announces Microsoft Lync Certification for SmartNode VoIP Gateways
SINGAPORE : SmartNode from Patton Electronics offers the industry's first BRI-class VoIP media gateways that are Microsoft-certified for interoperability with Lync unified communications (UC) solutions. >>read more...
•
Bouygues Telecom Selects Patton VoIP Gateways for Business Offering Deployment
NOAILLES, FRANCE : Patton's PRI-class SmartNode VoIP gateways enable Bouygues Telecom's end customers to deploy VoIP using their existing network and without replacing existing PABx equipment. >>read more...
•
One CPE Does Work of Three: Providers Deliver VoIP Service for BRI and FXS/FXO lines with G.SHDSL WAN Access
GAITHERSBURG, MD and BERN, SWITZERLAND : Offering carrier-providers a one-box unified communications enabler for Europe's SMEs, Patton's 8-to-24-call SmartNode 4670 VoIP IAD integrates G.SHDSL broadband access with up to 8 BRIs and 8 FXS/FXO interfaces >>read more...
•
Last CONNECT eNewsletter - 28 February 2012
Case Study-Broadvox Deployment Spawns VoIPReady Solution; SmartNode Scores Seven in a Row; 1000s of BRI Gateways Shipped: BRI-POTS Hybrid coming; more...


Thanks for reading PATTON CONNECT for July 2012. Send feedback... Watch your inbox for the next update from Patton. . .


Glen Flowers
eNews Editor
PATTON Electronics Co.
P.S. Did you know you can go online to update your contact info, change your subscriber preferences, view order history, and more? Visit Patton's new secure user portal...




Subscribe | Unsubscribe | Patton eNEWS Archive | Patton Products | Search patton.com


High-quality, cost-effective network equipment
Made in the USA.
7622 Rickenbacker Drive | Gaithersburg MD 20879-4733 USA | +1 301-975-1000 | sales@patton.com