The built-in G.SHDSL modem makes SmartNode™ models SN4960G and SN4650 easy and low-cost to deploy.

SmartNode™ VoIP IADs with Integrated G.SHDSL Modem
SN4960G PRI VoIP IAD
• 1 to 4 PRIs
(includes PSTN breakout)

• 15 to 120 VoIP calls

SN4650 BRI
• 3 to 5 BRIs
(includes PSTN breakout)

• 4 to 8 VoIP calls

Drive profits higher for your business-class VoIP-trunking services with Patton's low-cost, high-performance CPEs.

The new SmartNode™ ISDN VoIP IADs (now in carrier field trials) come with an on-board G.SHDSL.bis interface that eliminates costly & cumbersome out-board modems.
Reduce your overall cost-per-subscriber while delivering integrated 5.7 Mbps network access.

Order now. Patton's double-security promotion offers a free VPN license and free five-year warranty with each unit you order by 31 December 2006.
Call +1 301 975 1000 or email sales@patton.com.

Do you have the knowledge and skills you need to sell and support Patton solutions?

Sales Training

Achieve (or renew) your status as an Authorized Patton Distributor. Register now for Patton's Sales Certification Training.
Technical Training

Get certified to provide tech support for SmartNode™ VoIP solutions. Sign up for Patton's SmartNode™ Technical Certification Course.

Carriers Conduct Field Trials with Patton's G.SHDSL VoIP Gear

Market Surges as Patton Announces GA on New PRI VoIP IADs

Ultra-Fast Ethernet Extender Extends Patton's CopperLink™ Line

Patton Launches Industrial-Ethernet and Hardened-Network Gear

Patton & Pingtel Birth Pioneering IP-PBX Appliance

SmartNode™ VoIP CPEs Cirpack®-Certified for Interoperability


Free in the Patton Library
How do you deliver reliable voice on your industrial network — without impeding critical data traffic?

Patton's latest

white paper describes how the advanced VoIP QoS mechanisms in SmartNode™ classify, prioritize, and shape traffic for reliable voice (and data) over industrial Ethernet.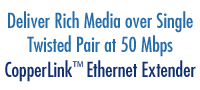 The CopperLink™ Model 2172 eliminates expensive fiber-optic or CAT5e cabling.
Use common voice-grade copper to deliver such bandwidth-thirsty applications as medical imaging, streaming Voice-over-IP, triple-play
Optimize reach & rate with six selectable line rates.
Installs easily with auto-sensing 10/100,full/half-duplex Ethernet interface.
Cut-out the cable question (crossover or straight-thru?) with auto MDI-X.
and more...

Extend Ethernet at full-duplex rates up to 50 Mbps. Reach up to 6,000 feet (1,830 meters) over single twisted pair.

Order before 15 January 2007 and receive EarlyBird discounts on quantities of 10, 25, 50 or more.