Patton's IPLink™ Model 2888 Inverse Mux bonds up to 4 T1/E1s into a transparent 8-Mbps channel.
Model 2888 data sheet
Model 2888 press release
FAT PIPE for thin budgets. Why not use today's existing TDM infrastructure to build your next-generation network for tomorrow's high-speed applications?

Forget the fiber. Patton's IPLink™ Model 2888 Inverse Mux bonds T1/E1 lines into a transparent high-speed channel so you can. . .

•
Re-use existing TDM infrastructure to deliver high-speed next-generation network-access services.
•
Transparently backhaul broadband traffic from remote POPs (wiMAX base stations, IpDSLAMs) and network peering points (MPLS routers).
•
Seamlessly interconnect MPLS/VPLS next-generation networks (NGNs) and avoid MPLS tunneling vulnerabilities.

What does Patton have that no one else has? See the Model 2888 Inverse Mux feature summary...
Order now. Patton's EarlyBird Special offers first-time buyers a 25% discount on any quantity of Patton's IPLink™ Inverse Mux ordered during November.

Call +1 301 975 1000 or email sales@patton.com.

Do you have the knowledge and skills you need to sell and support Patton solutions? Check out these events...

Sales Training

Achieve (or renew) your status as an Authorized Patton Distributor. Register now for Patton's Sales Certification Training.
Technical Training

Get certified to provide tech support for SmartNode™ VoIP and other Patton solutions. Sign up for Patton's Technical Certification Courses.
Seminars, Road Shows, Trade Shows

Meet Patton in your region at a customized seminar, road show or trade show. Check out Patton's current Master Event Schedule.
On-Site Training & Seminars. . .
Send us your on-site training request.

New BRI PSTN Gateway Resets Price-Performance Benchmark

Patton-Inalp Joins Triple Play Alliance, Promotes Interoperability

Patton Receives INTERNET TELEPHONY Excellence Award

Patton Ships 8-Mbps Inverse Mux for NGNs over TDM

Enterprise VoIP Planet Interviews Patton's VP

New Router Enables NGN Deployments & High-Speed Backhaul


Internet Telephony Magazine honored Patton's SmartNode™ 4652 VoIP-over-VPN Router for an exceptional communications solution.

Patton delivered

a 1200-site converged ISDN VoIP-and-Data network with state-of-the-art security for a prominent German retail chain more...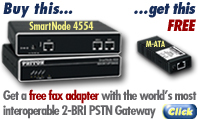 In Wyoming Wilderness Patton Delivers Data, Voice, and Video with CopperLink™, SmartNode™ & SmartLink™
Before Patton came along, communications were a major problem for this remote boy Scout camp. Cellular service was costly and unreliable, so Don Ormsby, a scouting volunteer, wanted a better solution.

The mountaintop reception tower was well beyond the
328-foot reach of Ethernet. Dense forest blocked line-of-sight, so wireless was not an option.

Find out how Patton delivered

reliable unified communications in the Wyoming wilderness. . .



Get yours FREE in the
Patton Library...
Patton's new Industrial Solutions Guide includes hundreds of products ideal for industrial applications.

Covers Ethernet & audio/video extenders, line drivers, device servers, CCTV/CATV baluns, multiplexers and more...