An "easy-to-use, low-cost alternative for organizations that don't have deep pockets."

That's what independent consultant Biju Oommen calls Patton's IPLink Model 2603 WAN Gateway router in Computing Canada Magazine's product review.

Click the title below for your free PDF copy of the article: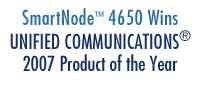 SmartNode™ claims its fifth major award in three years.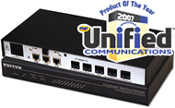 Did you know the SmartNode™ 4650 won the UNIFIED COMMUNICATIONS Magazine 2007 Product of the Year award?

That's makes the fifth major award SmartNode™ has claimed since 2005.

The SN4650 interconnects SIP & H.323 VoIP gear, TDM & ISDN networks, and the IP-based unified communications cloud.

The ISDN VoIP IAD combines an on-board G.SHDSL.bis port with dual Ethernet ports & up to 5 BRIs for 8 concurrent calls.
Prior SmartNode™
INTERNET TELEPHONY
Awards. . .


Inverse Multiplexing for Transparent Ethernet Bridging over Bonded T1/E1s

The paper covers the rationale, key protocols and must-have features for Ethernet backhaul over bonded T1 or E1 circuits. Get your copy...