Patton's plug-and-play Model 1173 simplifies deployment and lowers installation costs by delivering high-quality streaming video over existing copper infrastructure.
Model 1173 data sheet
Model 1173 press release
Now you can transmit high-quality streaming video over ordinary copper telephone wire. Patton's Model 1173 IP Camera Network Extender makes IPTV possible any place there's a twisted pair. more info... Eliminate the cost of infrastructure upgrades, including site-survey and interference testing for wireless solutions.

Problem solved. The Model 1173 is truly plug-and-play with no new cabling required. Just find a phone wire or alarm circuit—even a CAT5 cable—and drop it in. Faster & Farther. Patton's innovative technology takes video-over-Ethernet up to 6000 feet/1830 meters (4 Mbps) and up to 2000 feet/610 meters (50-Mbps). product details...

Order Now! Where to Buy?


Contact your local Patton-Certified Distributor or...

SmartNode™ VoIP Certification training is now available in five languages... in locations throughout the world.


With live instruction and course materials available in German, French, Italian, Spanish, and English, Patton makes it more convenient than ever to get SmartNode™ certified.

Learn to install, configure, operate, and support SmartNode™ VoIP solutions in Munich, Paris, Milan, Barcelona, and more...



Get SmartNode™ Certified!




For more information. . .

Patton Unveils World's First IP Camera Extender at IIPSEC 2008

Patton Announces SmartNode™ Unified Communications Agent

3CX, Patton Deliver Bundled VoIP & IP-PBX Solution w/ Deerfield

Patton Commences 25th Year of Data and Telecom Innovations

Patton Wins INTERNET TELEPHONY® Magazine's Product of the Year Award for Third Consecutive Year

Patton Adds SIP Registrar to SmartNode™ VoIP Equipment

The new Unified Communications Agent for SmartNode™ delivers secure, survivable, voice & data communications with...
•
Any-to-any calling between SIP, H.323, ISDN, and POTS systems.
•
Routing & conversion between IP/Ethernet and TDM/PSTN for voice & data.
•
FAX with T.38 & SuperG3.
SmartNode™ UCA includes SIP Registrar for simplified set-up, enhanced interoperability, and low or no-cost growth. more...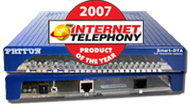 Three in a row! Patton's SmartNode™ S-DTA won the INTERNET TELEPHONY Product of the Year for 2007.

Carrier Class. With high reliability, proven interoperability, and touchless auto-provisioning, it's the only carrier-class BRI VoIP Gateway on the market. more...
Other Internet Telephony Awards for SmartNode™. . .

Order Now! The Early Adopter Special for Patton's SmartNode™ 4554 expires Friday 29 February 2008. Terms & conditions...

Get high-quality, low-cost PSTN access for 4 VoIP calls with proven interoperability, rich ISDN features (ECT, AOC, CLP/CLR), and a free fax adapter! Offer details...


Order or download your
FREE Patton Catalog!
Patton's new full Product Line Catalog includes over 1,000 telecom, networking & communications solutions.

Over 270 pages filled with network access & connectivity solutions for VoIP, xDSL, broadband access, T1/E1, Ethernet extension, line drivers, device networking, and much
more...