With dual gig-Ethernet ports, 4 T1/E1/PRIs, and up to 120 VoIP calls, the low-cost SN4960 delivers secure, toll-quality, business-class VoIP.

Make deep cuts in your overall cost-per-subscriber by rolling out VoIP business-trunking services with a low-cost, high-performance CPE. Now, with Patton's SmartNode™ 4960 PRI VoIP IAD, you can:
•
Expand market share by offering reduced rates on converged VoIP, voice & data services
•
Increase profit margin by delivering feature-rich, business-class VoIP services
SmartNode™ 4960
Biz-Class Feature Highlights
•
30 to 120 concurrent VoIP or T.38 FAX calls
•
1 or 4 T1/E1/PRI ports
•
Integrated G.SHDSL port (optional).
•
2 Gigabit-Ethernet ports
•
Voice-over-VPN with IPsec voice encryption
•
DownStreamQoS™ for toll-quality voice
•
Prioritized traffic scheduling and shaping
Shake it up. Patton's latest technology innovation is shaking up the market with prices that fall way below industry benchmarks. It's also the VoIP industry's first name-brand PRI-class CPE with dual gigabit-Ethernet ports.

Integrated access. The SN4960 is also available with a built-in G.SHDSL.bis modem for easy broadband access at up to 5.7 Mbps.

Send the right signal.
Pick-a-protocol, any protocol... SIP, H.323, MGCP/UIA, G.703/G.704, T1 RBS/CAS, ISDN PRI, DSS-1, NI-2, Q.SIG... SmartNode has them all. With so many signaling options, the world's most interoperable VoIP gateway can connect any phone equipment (POTS, ISDN, SIP) with any VoIP network and softswitch. more...

Convenient, cost-effective, and RoHS-compliant, the Model 430 Single-Port E1/E2 Balun Series cuts costs in high-density G.703/G.704 installations with quick and easy conversion from expensive coaxial cable to lower-cost copper pairs.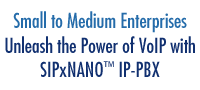 Now, small to mid-sized businesses can drive costs




SIPxNANO IP-PBX
supports up to 30 concurrent VoIP calls

to zero for internal calls. Plus, this powerful, pint sized PBX packs more calling and management features than a full sized legacy PBX. Improve communications for the whole company with such useful features as auto attendant, hunt group, call forwarding and many more...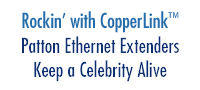 At the home of the rock-music king, CopperLink™ reigns as King of Ethernet Extenders.
Down in Memphis, there's a webcam focused on a late rock star's front lawn. Fans can log on to the celebrity's web site and see what their hero used to see from his bedroom window. But getting

"Patton made it easy to connect a remote location to our network, which otherwise would have been difficult and costly."
-Network Administrator

those real-time images out to the Internet involved some interesting network engineering challenges...

Ripping up the star's bedroom to install CAT5 or fiber-optic cable was completely out of the question. The technical team needed an innovative technology that could reach beyond Ethernet's physical limitations.

full story...

about secure, high-quality, low-cost network solutions from Patton. Go to patton.com, email sales@patton.com, or call
+1 301 975 1000.