News, information, special offers, product announcements, and more from...


High-quality, low-cost network
equipment. Made in the USA.
Web Version
25 May 2010
telecom news u can use | from Patton Electronics
•
Get Hands-On VoIP & IP Video Training at IPSizzles
•
Video Tutorial: How to Set Up SIP Trunking with Patton & 3CX
•
On-Schedule Under-Budget System Installations
•
Mobile Video Surveillance Technology Unveiled
•
Online Education: Ethernet Extension
•
What You Missed...


Subscribe | Unsubscribe | Patton VoIP News | Patton eNEWS Archive | VoIP Products | Search patton.com




Dear Patton eNews Subscriber,

Here is your May 2010 edition of Patton CONNECT with news u can use for communications technology markets. In this issue... Patton unveils groundbreaking mobile video surveillance technology for the security and intelligence industries. Watch the video tutorial on SIP trunking setup, get hands-on IP voice and video training at IPSizzles, get your free cable installers guide for on-schedule, under-budget projects—plus, online education about Ethernet extension technology...




Kerry Garrison

Video Tutorial: Set Up SIP Trunking with 3CX and SmartNode™
According to Kerry Garrison at 888VoipStore, Patton's SmartNode™ 4960 is ideal for PBX business trunking or corporate VoIP access. According to Garrison, configuring the SN4960 with 3CX is actually a fairly simple process consisting of the following steps...
• Plug the Patton 4960 into your network and power it up
• Use the SmartNode Discovery tool to find the IP address of the Patton 4960
• read more...

Get Your Hands On IP Voice & Video Training @ IPSizzles!
Get hands-on training and meet Patton's Sean Gerrity at ABP's IPSizzles travelling conference. The tour focuses on technology resellers and integrators in telephony, data networking and IP video surveillance. >>Register for IPSizzles...


Upcoming tour Stops...
June 15—16: Tampa
July 22—23: Philly
June 17—18: Atlanta
Aug 10—11: Dallas
July 20—21: New York
More locations...
Day 2 Agenda: Install, configure and troubleshoot a complete IP solution with several devices all working together. You will pick a task focused on your choice of...
• Advanced IP PBX & IP phones setup
• IP PBX with IP video calling and paging
• IP video surveillance and storage
• View the full two-day agenda....


Patton's broad portfolio covers your requirements for VoIP integration, WAN termination, surge protection, and more...

New Guide Promotes On-Schedule, Under-Budget Installations
Whether you are cabling one room or a whole campus, on-schedule, under-budget installations win repeat business from happy customers. Patton's new Cable Installers Guide shows how you can avoid costly replacements and upgrades by using converters and adapters to connect legacy serial and TDM equipment to advanced IP networks. >>Get your free copy... Since 1984, Patton has provided right-priced, high quality, communications equipment manufactured in the USA.

Online Education: Ethernet Extension Resources
Ethernet extenders expand Ethernet connections beyond the standard 328-foot (100-meter) Ethernet distance limitation to establish long-range, high-speed data-communication links between geographically separated LANs or LAN devices.

Want to learn more about long reach Ethernet, LAN extension, Ethernet distance and other topics? For bite—sized tech tutorials about Ethernet extenders, Inverse Multiplexer technology and more... visit the Patton Resource Center.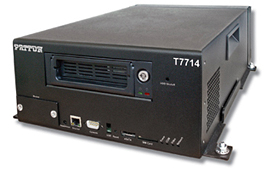 Visuality™ T7714
"Know Now"

Patton Unveils Landmark Mobile Video Surveillance Technology
Combining live streaming from vehicle-mounted, portable, or fixed cameras, with high-resolution recording, time-stamping and GPS correlation, Patton's Visuality™ is the only surveilance solution in its class! Visuality™ enables security agents to "know now" by delivering fully-distributed situational awareness and intelligence >> more information...



Well, that's it for this issue of Patton CONNECT. Got feedback? Let us know. . .


Glen Flowers
eNews Editor
PATTON Electronics Co.
PS Now you can update your contact info, change your subscriber preferences, view order history, and more, all on Patton's web site. Check out the new, secure Patton user portal...





Subscribe | Unsubscribe | Patton VoIP News | Patton eNEWS Archive | VoIP Products | Search patton.com




7622 Rickenbacker Drive | Gaithersburg MD 20879-4733 USA | +1 301-975-1000 | sales@patton.com