Service Providers • Carriers • Mobile Operators
Deliver Profitable Converged Services over SDH
Manage your transition to all-IP while delivering profitable triple-play services over SDH with Patton's OnSite S10 Series microMSPP solution.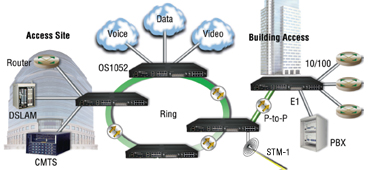 Read the press release:
Patton Acquires OnSite S10 NGN SONET/SDH Solutions...
Deliver profitable triple-play services with 2G infrastructures today while transitioning to 3G all-IP networking.

Now you can simultaneously operate and seamlessly switch between classic TDM and emerging packet-based transport facilities while delivering converged multimedia (data, voice and video) services to your subscribers.

Patton's OnSite micro-Multi-Service Provisioning Platform (microMSPP) provides dual STM-1 trunks
OnSite Benefits for
Network Operators
•
Co-existing 2G/3G
mobile infrastructures
•
Profitable migration
to all-IP NGNs
•
Converged TDM & IP
broadband transport
•
Managed transition
to Ethernet/IPbroadband service delivery
seamlessly integrated with up to 63 T1/E1 and up to 18 Ethernet client interfaces and a fully non-blocking cross-connect.

With such next-gen SDH features as VCAT, LCAS, and GFP... plus layer-2 VLAN, rate-limiting, Q-in-Q, and QoS... OnSite multiservice-over-SDH metro-access solutions let you manage TDM and IP/Ethernet-over-SDH architectures concurrently.

Whether you provide narrowband or broadband services, fixed-line data or wireless multimedia, Patton's OnSite solutions enable co-existing legacy and next-generation infrastructures to support your current and future business models. product details...


Order Now! Where to Buy?
Contact your local Patton-Certified Distributor or...
Patton-Inalp Networks
EU Headquarters (CH):
Call +41 (0)31 985 25 25
Email sales@patton-inalp.com
Patton Electronics
USA Headquarters:
Call +1 301 975 1000
Email sales@patton.com
Patton Resource Center
VoIP Cookbook: New SmartNode-Aastra Recipe
Need quick briefing on a networking term? Check out the Patton Resource Center for bite-size tutorials like this one...
SmartNode Set Up with Aastra 800 IP-PBX
SmartNode is fully interoperable with the Aastra 800 software, which runs on any standard Windows PC to provide IP-PBX/call-manager functions for your VoIP system.

Learn how to set it up! Visit the VoIP-in-Use section of the Patton Resource Center for step by step instructions...
Also in the Patton Resource Center. . .
Multi-Link Point-to-Point Protocol (MLPPP) is one of the underlying techniques employed to implement bonded T1 or bonded E1 circuits.

The most common techniques currently in use are MLPPP and Generic Framing Procedure/Virtual more...
NEMA4 Networking. Harsh environments can involve operating temperatures ranging from -45° to 85° C (-49° to 185° F), moisture, dust, oil, corrosive chemicals, and worse. Such network-equipment installations require NEMA4-compliant, environmentally-sealed more...
Patton in the Press
Hot Headlines in the News Media
Patton Ethernet Booster Extends PoE Five Times the Standard Reach
The CopperLink™ Model 2110 extends IEEE 802.3af to cut infrastructure costs and simplify deployment of WAPs, IP cameras and VoIP handsets.
Patton Partners with JTS to Take Double Share of Japanese Market
Targeting the world's second largest economy, Patton and JTS announce mutual commitment to 100% revenue growth with local inventory and Japanese-language sales, marketing and technical support..
Patton Names New CEO on 25th Anniversary
Robert R. Patton takes the helm on Patton's silver anniversary, steering the manufacturing firm toward continued long-term growth and profitability.
Milan Office Supports Rising Demand for Patton Equipment in Europe
Patton establishes Milan operations center in response to escalating requirements from regional carriers and enterprises for reliable equipment.
Patton Acquires OnSite Systems S10 Next-Gen SONET/SDH Solutions
Patton expands TDM, Ethernet, and Metro-Optical transport solutions by acquiring product and technology rights to the OnSite S10 product line.
Drawn by Robust Telecom Expansion, Patton-India Launches Operations in Chennai
Leveraging US, Swiss and Indian resources, Patton Electronics (USA) and Microsense (India) join forces to deliver integrated networking solutions