The IP PBX is a special case of a network appliance, a specialized computer designed for installation within an electronic communications network. Web servers, cache servers file servers, and security firewalls, for example, can be implemented as general-purpose computers running specialized application software-or as network appliances: digital processing devices dedicated to a single function. A Unified Communications (UC) server is a further development of the IP PBX, which integrates network applications such as email and presence notification with voice calling over the converged network.
VoIP appliance examples include such software-based IP-PBX products as the Patton
SmartNode Branch eXchange
(SNBX) IP-PBX appliance and the
SmartNode Branch eXchange VoIP Gateway
(SNBXGW) VoIP PBX appliance that combines a software-based business phone system with a VoIP media gateway in a one-box SMB voice-communications solution.
IP-PBX, VoIP-PBX & Unified-Communications business phone systems from SmartNode come with the quality, reliability, and stability you expect from Patton's SmartNode brand of VoIP solutions. Patton's VoIP-PBX and IP-PBX appliance portfolio makes it easy for small-to-medium enterprises (SMEs) to deploy future-proof Unified Communications (UC) systems quickly and profitably today.
• The
SmartNode Branch eXchange
(SNBX) IP-PBX appliance combines pre-installed Windows 7 and 3CX phone system (a software-based VoIP PBX) in a single compact package. The SNBX offers trouble-free transition to all-IP communications for SMEs with support for up to 500 SIP endpoints (phones) and up to 128 concurrent calls (64 with transcoding).
• The
SmartNode Branch eXchange with VoIP Gateway
(SNBXGW) IP-PBX appliance is a convenient "office-in-a-box" solution. The SNBXGW eliminates the interoperability obstacles for companies that want to keep such legacy equipment as PBXs, phones, fax equipment, and PSTN connections, whether analog POTS analog or digital ISDN. VoIP media gateway options include a range of analog FXS/FXO and/or ISDN BRI/PRI interfaces coupled with an industry-standard mini ITX PC board.
• The
SmartNode Open Gateway Appliance
(SNOGA) VoIP PBX and unified communications appliance offers software developers an open hardware platform with an integrated SmartNode VoIP Gateway-ready to support the operating system, IP PBX, or Unified Communications software of your choice.
Typical IP PBX Application for Converged Enterprise Voice and Data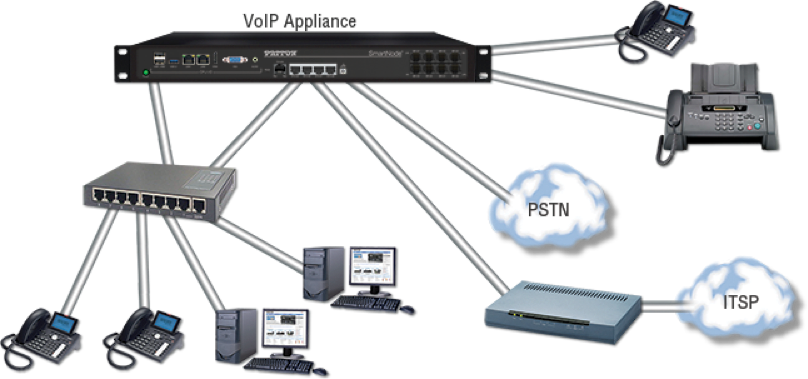 IP PBX Terminology
Short Glossary of Related Acronyms and Terms
IP PBX - Internet Protocol Private Branch Exchange
ISDN - Integrated Services Digital Network
PABX - Private Automatic Branch Exchange
POTS - Plain Old Telephone Service
PSTN - Public Switched Telephone Network
SIP - Session Initiation Protocol
UC - Unified Communications
VoIP PBX - Voice-over-Internet Protocol Private Branch Exchange


Common IP PBX Synonyms
Business Phone System
IP-PBX
IP/PBX
IPPBX
PBX Appliance
Small Business Phone System
UC Appliance
UC Server
VoIP Appliance
VoIP PBX